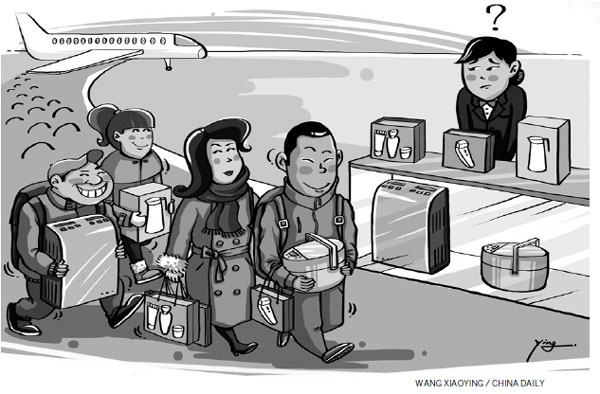 More than 6 million Chinese travelers spent a record 90 billion yuan ($14.29 billion) out of Chinese mainland during the Spring Festival holiday.
Apart from durable commodities such as electric rice cookers, smart toilet seats and air purifiers, the Chinese consumers also bought large amounts of daily necessities, such as electric razors, thermos bottles, cosmetics, foods and medicines.
Why did they travel such a long way to purchase commodities that are easily available at home? The answer lies in the differences in quality, price and consumer trust.
Quality and price are always important factors influencing consumption decisions. Chinese tourists can always find better products at the same price abroad. Many products made in China are even cheaper in foreign countries and are of higher quality than those in the domestic market.
But foreign dealers and retailers also offer more considerate services and better shopping experiences. And in developed countries, consumers have more effective ways to protect their legal interests than in China, where there are still many obvious loopholes in the implementation of the far-from-satisfactory consumer rights protection law.
Chinese tourists' shopping sprees abroad are an inevitable result of their comprehensive comparison of the differences between the consumption environments at home and abroad, and reflect the problems with almost every aspect of the domestic consumption environment.
Consumers always look for commodities of higher quality and better design, a feeling of being respected and protected, and rest-assured after-sales services, all of which constitute pleasant consumption experiences.