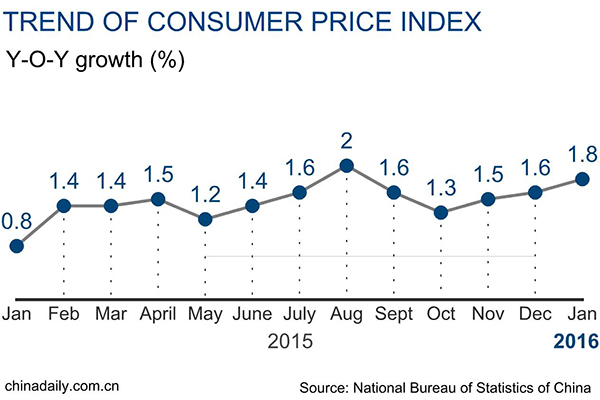 BEIJING - China's consumer prices rose for a third consecutive month in January thanks to rising food prices, while producer prices also eased a downward trend, official data showed on Thursday.
China's consumer price index (CPI), a main gauge of inflation, grew 1.8 percent year on year in January, up from a rise of 1.6 percent in December while hitting a five-month high, the National Bureau of Statistics (NBS) said in a statement.
Food prices edged up 4.1 percent year on year while non-food inflation climbed 1.2 percent, mainly due to higher prices of healthcare, clothing, education and entertainment.
Pork prices jumped significantly at 18.8 percent, contributing 0.44 percentage points of CPI growth while vegetable prices soared 14.7 percent.
Month on month, consumer prices edged up 0.5 percent.
NBS statistician Yu Qiumei said that vegetable and fruit prices went up due to supply shock during a cold in January, that demand for pork and transportation rose before the Lunar New Year, and that service prices had increased along with labor costs.
January's CPI data was based on a new comparison base which took into account of some new products and services, reflecting a change in the consumption pattern, the NBS said.
The adjustment might have tuned down the weight of food, depressing the headline CPI growth by 0.08 percentage points, said the investment bank China International Capital Corp. (CICC).
China's producer price index (PPI), which measures wholesale inflation, dropped for the 47th consecutive month to 5.3 percent in January, but the reading eased from the 5.9-percent contraction seen from August to December.
The narrowing of PPI decline was mostly driven by lower comparison base last January, the NBS said.
While prices in upstream industries, such as oil, continued to go down, some products in the downstream, such as ferrous metals, saw slight recovery of prices in January, which might have been a result of China's latest efforts to pursue supply-side reform, which includes cutting overcapacity in specific industries, CICC said.
The PPI and CPI are related, as the PPI reflects prices in production, while the CPI reflects prices at the point of consumption. Price fluctuations usually first appear in the production phase before being passed on to consumers.
The rising CPI signaled easing of deflationary pressure, according to Minsheng Securities, but analysts are still worried growth will not last.
"The uptick reflects more a seasonal shock to food prices and a reduced drag from commodity costs than strengthening in demand using up spare capacity," said Bloomberg economist Tom Orlik in a research note.
"With virtually the entirety of the increase coming from food prices, it's not an increase that's likely to be sustained for long," Orlik said.
HSBC analyst Qu Hongbin also warned that deflationary risk is still lingering, and called for further policy easing to boost domestic demand.
Policy in the next few months will tilt toward expanded fiscal stimulus and the central bank will guide market rates lower without cutting benchmark rates, said Orlik.
To prop up the economy, the People's Bank of China cut benchmark interest rates five times in 2015. Since the last reduction in October, the central bank also lowered the short-term money market rate many times to inject more liquidity to the financial system.