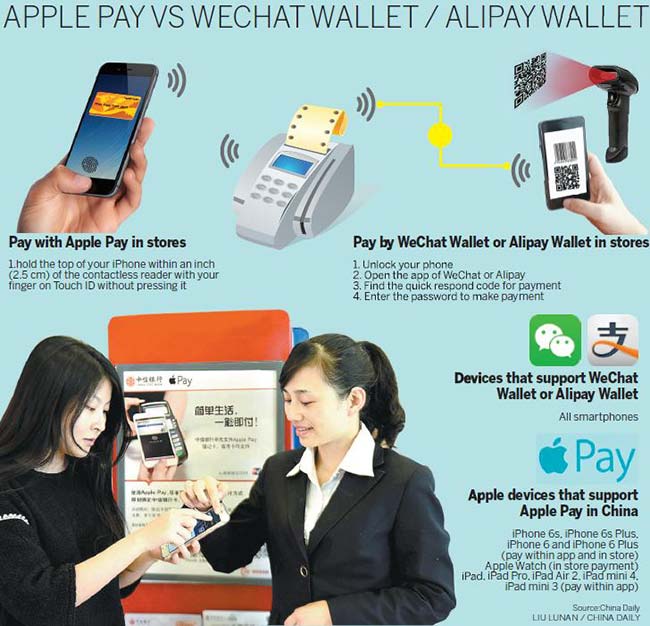 Apple Inc launched its mobile payment service Apple Pay in the Chinese mainland on Thursday, pitting itself against strong domestic rivals.
But some analysts think the new service-which uses near-field-communication or NFC technology-will struggle to win market share as domestic vendors, too, are poised to launch their own array of new handsets featuring the same functions.
Using a chipset installed in smartphones, NFC technology allows contactless data exchange between devices and point-of-sale terminals.
The transaction is completed when users hold their phones near a POS portal.
"The biggest achievement for Apple Pay is that it will help open up a brand new market," said Li Chao, a Beijing-based analyst from iResearch Consulting Group.
Xiaomi Corp and Huawei Technologies Co Ltd, Apple's strongest local challengers in China, have already introduced devices with NFC features.
The prices of their smartphones are a fraction of the cheapest iPhone with the same function, which is selling at 4,488 yuan ($690).
Xiaomi is scheduled to unveil its 2016 flagship device featuring NFC payment services next week, named the Mi 5, according to sources familiar with the product. It is also pushing an e-wallet service similar to Apple Pay.
Apple had less than 15 percent of the Chinese smartphone market in the fourth quarter of last year, while the top five Chinese vendors combined controlled about half, according to consultancy International Data Corp.
James Yan, a smartphone market expert at industry consultancy Counterpoint Technology Market Research, said first-quarter shipments of the iPhone 6 Plus series in China are expected to have fallen 30 percent due to weakening demand and a lack of innovation compared with the previous generation of the devices.
Kevin Dallas, chief product officer at payment-technology provider Worldpay, however, expects demand for NFC technology to be limited in general in China, as transaction systems are already installed on many users' smartphones.
"Apple's offering supports both in-store and mobile-app payments, but for their part Alipay and Tenpay (applications developed by Chinese Internet giants Alibaba Group Holding Ltd and Tencent Holdings Ltd) have been winning over Chinese customers for years," he said.
Alipay was responsible for around 70 percent of China's mobile payments by transaction volume last year, according to iResearch.