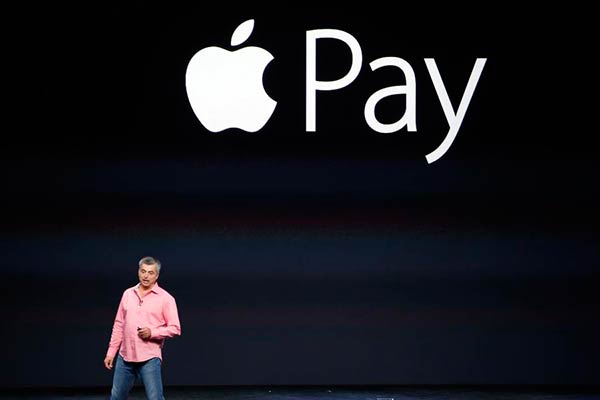 Eddy Cue, Apple's senior vice president of Internet Software and Service, introduces Apple Pay during an Apple event at the Flint Center in Cupertino, California, September 9, 2014. [Photo/Agencies]
A Chinese bank's official social media account said Apple Pay, a mobile payment service of Apple Inc, will be available in the country by Thursday, on Tuesday.
Apple said in December it will launch the wireless payment business in China, its biggest overseas market, partnering with China UnionPay, the No 1 bankcard association in the country.
The launch date was leaked by a WeChat account of China Guangfa Bank. Many banks use WeChat, an instant messaging app, to promote their businesses in China.
"Apple and China UnionPay jointly confirmed that Apple Pay will be formally launched on February 18 at 5:00 am,"said the account.
The CGB deleted the message on WeChat on Tuesday morning, indicating that the launch time may not be accurate.
China UnionPay told China Daily it will announce the launch time with Apple later. Apple is yet to reply to emails seeking comment.
Apple Pay allows iPhone users to make payments in brick-and-mortar stores via smartphones. The United States company is trying to launch the service in markets including China, France and Canada.