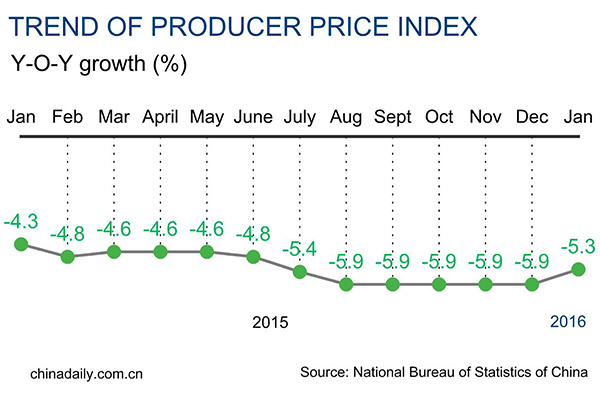 BEIJING - China's producer prices continued to drop in January but the contraction eased notably, signaling less deflationary pressure, official data showed on Thursday.
The producer price index (PPI), which measures wholesale inflation, dropped 5.3 percent year on year in January, according to the National Bureau of Statistics (NBS).
It marked the 47th straight month of decline. But the contraction eased in comparison with that of previous months. From August to December, the monthly reading stayed unchanged at 5.9 percent.
On a month-on-month basis, January's PPI inflation fell 0.5 percent, 0.1 percentage points less than December's reading.
NBS statistician Yu Qiumei attributed improving producer prices mainly to the low comparison base last January.
In January, price drops in ferrous metal smelting, oil refining and processing, chemical raw materials and chemical products contributed more than half of the general producer price decline, Yu said.
Tom Orlik, chief Asia economist at Bloomberg, said commodity prices remain extremely low, but on a year-on-year basis they had not dropped quite as much in January as they had at the end of 2015. That explains the bulk of the slight firming in factory gate prices, he said.
"More resilient manufacturing prices, which fell 4.9 percent in January compared with the decrease of 5.4 percent in December, are a tentatively positive sign," Orlik said.
The PPI data came along with the release of the consumer price inflation index, which rose 1.8 percent in January.