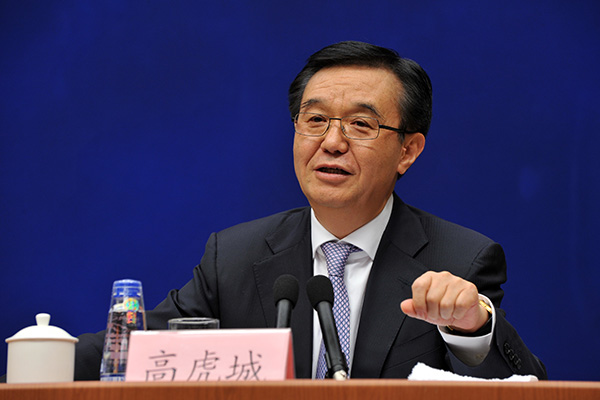 Minister of Commerce Gao Hucheng speaks at a press conference on Feb 23, 2016. [Photo/CFP]
BEIJING - Consumption in China will continue to grow at a rapid pace in 2016, Minister of Commerce Gao Hucheng said at a press conference Tuesday.
Consumption expanded 10.7 percent year on year and contributed 66.4 percent to China's economic growth in 2015, compared with 51 percent in 2014, encouraged by continued rapid growth in people's income, improved social security and better supplies of goods, according to Gao.
To encourage consumption, the ministry will continue to promote supply-side reforms to enhance the quality of goods and services, Gao said.
As China tries to wean the economy from its lopsided dependence on investment and foreign trade, consumption, services and innovation are emerging to become new drivers of growth.
In response to questions that whether China will further depreciate the yuan to spur exports, Gao said recent fluctuations of the yuan will not affect China's trade performance, adding that neither depreciation nor appreciation of the yuan will benefit trade.