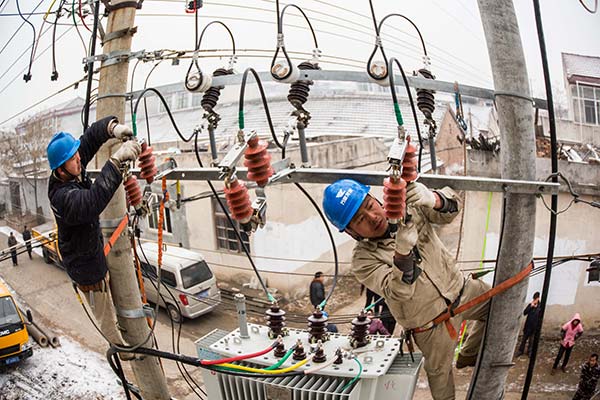 Workers upgrade power cables in a rural area in Huaibei, Anhui province.[WANG WEN / FOR CHINA DAILY]
On Feb 7, I drove nearly 1,000 kilometers home so as not to miss the chance of spending the most important family reunion occasion of the year-Spring Festival, which started the following day-at my home village in the southwest of Henan province in Central China.
I knew my elder brother bought a washing machine and an air conditioner early last year. While we chatted during the eve of the Lunar New Year, I learned he seldom kept the air conditioner running in the sweating summer or the coldest days of this winter, because he found it to be an excessively high electricity-consuming appliance. He virtually stopped using it after just a few days in the summer.
Actually, his decision to buy the home appliance was made in May last year, shortly after the price regulator with the Henan development and reform commission announced a so-called unification of the dual tracks of urban and rural electricity billing systems.
In April, the pricing authorities in the province said prices for rural power usage would be brought down to the same level charged on urban residents. But actually, rural electricity charges (for everyday life, excluding agricultural production) are 0.56 yuan (about 9 cents) per kilowatt hour, still about 0.10 yuan higher than the bills paid by urbanites in Beijing. Before that, the charge used to be as high as 1.5 yuan per kWh.
If taking into account the rural-urban income gap, rural power charges should have been further lowered. The pricing authorities and utility companies may, however, have considered other factors when they set that charging standard, such as costs for constructing the power transmission lines due to the distance between villages and the size of village population.
According to the National Bureau of Statistics, per capita disposable income of rural residents was 11,422 yuan in 2015, about 2.73 times less than the average of their urban peers. Due to the limited amount of farmland, my fellow villagers' average income is lower than the national average.
This may help explain why rural residents like my brother don't want to spend a few hundred yuan in the summer to keep cool and another few hundred in the winter to keep warm. Of course, frugality might be another reason.
I'm still very much puzzled by the fact that rural folks who earn less are paying more for lighting up their homes and keeping the few electrical home appliances they have in use.
Another headache for them is an unstable power supply and blackouts now and then, particularly during the peak seasons for electricity use.
This problem is expected to be solved or eased soon after the State Council announced, just before Spring Festival, a new round of investment totaling 700 billion yuan to upgrade the rural electricity power grid.
The power grid upgrading will help address problems like substandard voltage and insufficient power supply, and meet farmers' demand for electricity.
As a major grain-producing region and one of the most populous provinces, rural power usage accounts for about 60 percent of Henan's total electricity consumption, according to State Grid Corporation of China's Henan branch.
Many economists and officials alike have repeatedly said the consumption potential among rural folks is yet to be tapped, and rural spending may help in the transition to a consumption-driven economy.
In the drive to fire up rural spending and urbanization, home appliances should constitute a big chunk, because for many, they will be their first purchases.
When I talked with my fellow villagers, I know they have a strong desire to embrace the convenience of modern technology and appliances. One hurdle is their meager income from farming, and another is the high electricity charge, which has made many shun the use of such devices.
In order to stimulate rural spending, it's time to remove these obstacles so rural folks, particularly those in central and western areas, would no longer leave their appliances idle.
Next year when I go home for the festival, I hope to see more modern appliances installed, and more importantly, in use.