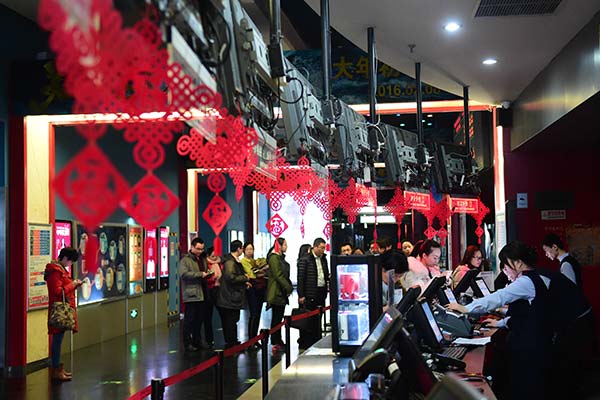 Customers line up to buy tickets at a cinema in Beijing on Wednesday. The country's box office reached 44.1 billion yuan last year, a 48.7 percent rise year-on-year. International film companies face quotas for imported films in China.[Photo/Xinhua]

Major investment will also help US company expand into growing Chinese film market
Chinese movie and TV drama producer Perfect World Pictures Co Ltd has announced it will invest $250 million in US film conglomerate Universal Pictures, becoming one of the largest investments a Chinese company has made in a Hollywood studio.
Perfect World has reached an investment and strategic cooperation agreement with Universal Pictures to finance at least 50 Universal films over the next five years through its overseas subsidiary Perfect Universe Investment Inc, a statement issued by Perfect World Pictures said on Wednesday.
According to the deal, the Chinese company would get a 25 percent share of the Universal films it funded, including global ticket sales, as well as television and merchandising revenues.
The company's stock surged 1.92 percent on Thursday to 43.62 yuan ($6.71) per share.
Universal Pictures, owned by Comcast Corp, is one of Hollywood's "Big Six" film studios. The company has delivered blockbusters including Jurassic World, Fast and Furious, and Minions.
Its global box office reached $6.6 billion in 2015, ranking first in market share, and it created the highest box office records in Hollywood history.
"It is an important step that Perfect World Pictures expands into international markets. The company could learn advanced film technology, production processes and every link of the film industry from its Hollywood partner, which will benefit the development of the domestic film market," said Huang Guofeng, an analyst with the Beijing-based Internet consultancy Analysys International.
The cooperation also shows how much Universal Pictures values China's huge film market. Perfect World Pictures, which has experience with local film distribution, could help Universal distribute its films in China, and enhance its influence in the Chinese film market, Huang added.
Perfect World Pictures announced in January that it had acquired online gaming giant Perfect World for 12 billion yuan, and is set to develop both the online gaming and film industry.
The company plans to build a team in Los Angeles later this year to learn film productions from Universal.
The box office in China reached 44.1 billion yuan last year, a 48.7 percent rise year-on-year.
The box office of domestically produced films came up to 27.1 billion yuan, taking up 61.58 percent of the total, the State Administration of Press, Publication, Radio, Film and Television said.
Movie industry observers expect that China will overtake the United States to become the world's largest film market by revenue in 2017.
However, international film companies face quotas for imported films in China, so establishing a cooperation relationship with Chinese companies will help Hollywood studios increase their market opportunities in China.
This investment comes one month after China's Dalian Wanda Group Co announced its acquisition of Hollywood filmmaker Legendary Entertainment for $3.5 billion in cash, which is expected to make Wanda Film Holdings Co the highest revenue-generating film company in the world.
Last November, Chinese film distributor Bona Film Group Ltd said it would invest $235 million in a slate of Twentieth Century Fox movies and help bring Hollywood productions to the Chinese mainland market.