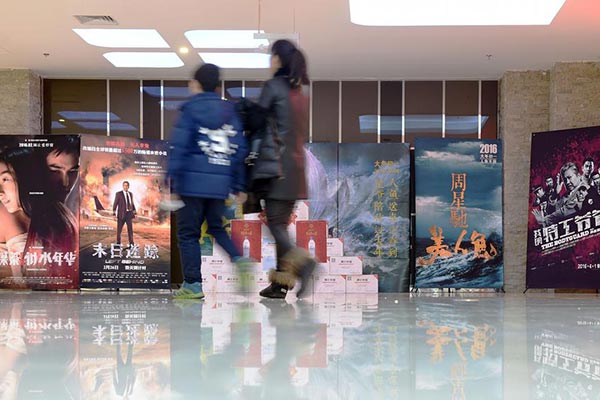 Chinese moviegoers are seen at a cinema in Shenyang city, Northeast China's Liaoning province, Feb 14, 2016. [Photo/Xinhua]
Movie ticket sales in China during the week-long Spring Festival holiday, plus Valentine's Day on Sunday, hit a record high of 3.5 billion yuan ($535.4 million), up 87.13 percent from a year earlier.
Stephen Chow's latest comedy, Mermaid, produced by Beijing Enlight Pictures and China Film Group, nabs the country's box office crown with 1.79 billion yuan in receipts by Sunday, according to online ticketing portal Maoyan.
Blending Chow's brand of humor in a love story, Mermaid has won a warm reception from moviegoers since its 270 million yuan opening on Monday.
The home-grown movie looks well-positioned to break the record set by Monster Hunt's all-time sales of nearly 1.27 billion yuan at the box office, among other Chinese films.
The film was trailed by Chow Yun-Fat's The Man From Macau III and The Monkey King 2, starring Aaron Kwok - both are sequels selling 780 million yuan and 750 million yuan in tickets, respectively.
The three contributed to more than 90 percent of the box office during the same period, statistics show.
DreamWorks Animation's Kung Fu Panda 3 was simply drowned out by the three blockbuster films, with a box office of 200 million yuan during the holiday, bringing its total to 812 million yuan since its debut on Jan 29.
China's movie market has been growing fast in recent years. In 2015, the country's box office reached 44 billion yuan, an increase of nearly 50 percent from a year earlier.
Media reports say the country is expected to overtake the United States as the world's largest film market in the next two to three years.