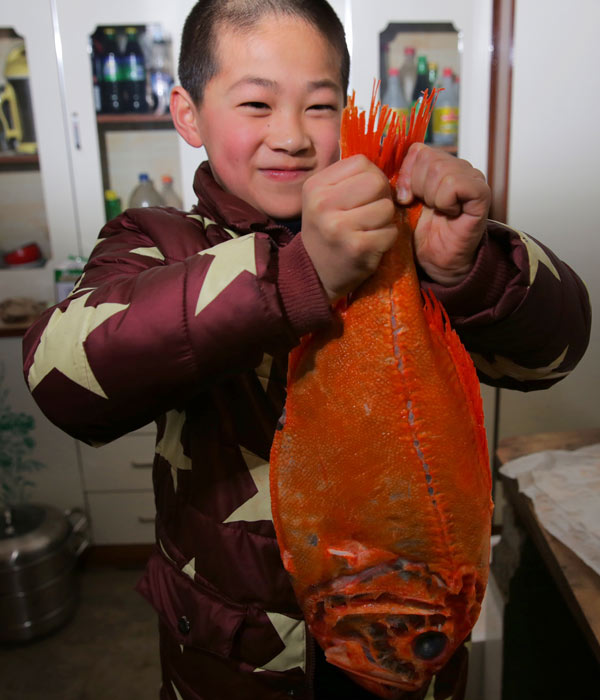 At his family home in Luochuan, Shaanxi province, Sun Caiyu shows off the New Zealand fish bought online. His family bought several foreign food items online for this year's traditional Spring Festival banquet at his home. [Photo provided to China Daily]
Run-up to Lunar New Year sees surge in e-commerce as consumers trawl the cyberspace
Every Spring Festival, Xu Xiaoding, 55, of Ningbo, Zhejiang province, lovingly, painstakingly cooks a fantastic banquet consisting of more than 10 courses for his extended family.
Typically, Xu's preparations would start weeks in advance. The best of vegetables, meat, spices, fruit, drinks and dairy are sourced from numerous local markets.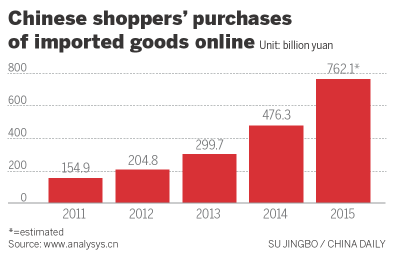 This year, however, Xu's efforts took a radically different turn. Without stepping out of his home, he went global, thanks to e-commerce.
An exotic banquet awaits his children, grandchildren and relatives. It included not only traditional Chinese food but seafood from New Zealand, cherries from Chile and wine from Australia.
"I started to look online because I couldn't find the special kind of rice cake my pregnant daughter really loves," he said.
"Then I couldn't stop clicking on the pictures of other products. There turned out to be so many options online with even better deals compared with what regular shops offer."
Xu is among the growing number of Chinese consumers who are embracing online shopping. In doing so, they are spawning sales worth hundreds of billions of yuan from mid-January to mid-February for the Chinese New Year.
That's glad tidings for China's e-commerce players who are flush with the record-breaking success of so-called Singles Day online shopping festival on Nov 11.
"Chinese New Year is the most celebrated festival and holiday in China, and is traditionally a time to go shopping," said Frank Zhang, general manager of SAP Hybris Greater China, an e-commerce software company. "This is a great opportunity for e-commerce companies to increase business, and for low-profile major rural brands to get exposure in smaller cities."
E-commerce companies are even selling foreign goods, hoping to entice Chinese consumers who wish to add an exotic twist to their Spring Festival shopping.
Leading the charge is Alibaba Group Holding Ltd. Multinational brands and retailers on its Tmall Global, an online platform dedicated to selling imported products to Chinese shoppers, began preparations for this year's Spring Festival sales offensive as early as November. On offer are imported goods of 5,000 brands from 25 countries.
Lest the offerings be interpreted as an invasion by foreign brands, Daniel Zhang, Alibaba Group's chief executive, said at this year's sales launch the aim is "to enable rural customers to access an extensive range of New Year's goods from home and abroad, while making products from rural China more available among urban customers".
The overseas goods Zhang talked of include 150 tons of chocolates made in Italy, 20,000 Canadian deep-sea lobsters, 50 tons of Australian beef and 500,000 bottles of wine from France.
Alibaba said its best-selling imported goods are maternity and baby products, accounting for nearly 30 percent of total sales and imported food, accounting for about 25 percent.
JD.com Inc, Alibaba's main rival, began a month-long Spring Festival sales drive on Jan. 4, offering consumers a host of products including food, beverages, baby and maternity products, and cosmetics.
Amazon.cn, the China unit of the US e-commerce giant, launched a Chinese New Year sales festival on Jan 11 with more than 9 million overseas products. It worked out its logistics four months before the Spring Festival.
Laura Xiong, vice-president and marketing head of JD.com, said market research showed many shoppers, especially those in first-tier cities, are keen on buying imported goods to celebrate the festival.
"Young people love to take imported foods to their hometowns as gifts," she said, adding even those in rural areas have shown great interest in vodka, French wine and imported foods as they are keen to try something unusual, in keeping with the festival mood.
She said a growing number of people shop online and choose to have their shopping delivered directly to their parents through couriers, so they could travel home light. "It just takes a little bit more time to deliver imported goods in interior areas," said Xiong.
Niu Yinghua, vice-president of Amazon China, said big data technology helps predict products that would enjoy high demand before Spring Festival. "Our US center can send out packages within one hour of receiving an order. It takes only six to eight days for Chinese shoppers to get their Spring Festival purchases."
Not everyone is impressed. Critics of online shopping festivals think consumers have already spent a lot of money during the Nov 11 event and subsequent events like Black Friday and 12-12 (Dec 12). Frequent online sales could over-exploit the consumption power of Chinese shoppers.
But Niu disagrees. "Nov 11 was about bargain-hunting. Black Friday event was more about high-end overseas products. But Spring Festival shopping can be for everything, from clothes, toys and food to something related to home decoration."
The market is big enough for e-commerce players to tap, she said.
Lu Zhenwang, an independent Internet expert and the chief executive officer of the Shanghai-based Wanqing Consultancy, said, "Spring Festival can be another big online shopping event if e-commerce players handle it properly."
But Laura Xiong, vice-president and marketing head of JD.com, believes the convenience of e-commerce would persuade more and more consumers to go online for shopping sooner or later. "People tend to finish shopping one week ahead of the Spring Festival because many brick-and-mortar stores close as the Chinese New Year nears.
"So starting this year, we will offer non-stop delivery services during the Spring Festival. Shoppers would get the same fast delivery during the holiday. In the long run, we hope the service would change customers' shopping habit."
At his family home in Luochuan, Shaanxi province, Sun Caiyu shows off the New Zealand fish bought online. His family bought several foreign food items online for this year's traditional Spring Festival banquet at his home.