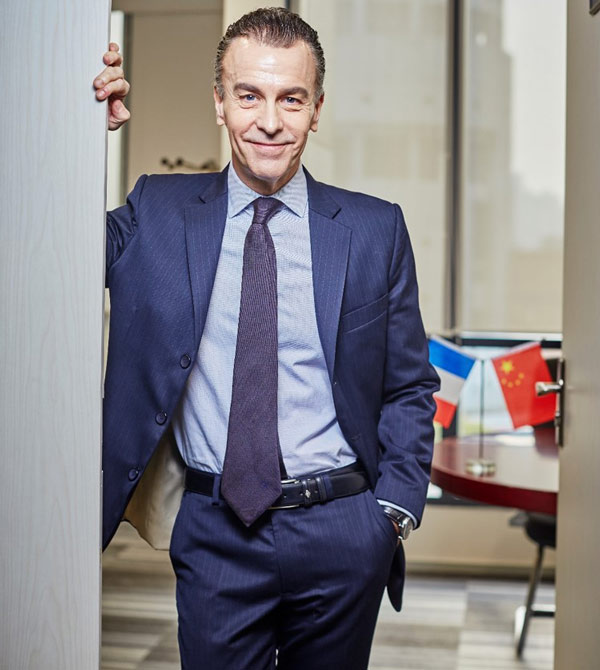 Javier Gimeno, CEO for the Asia-Pacific operations of Compagnie de Saint-Gobain SA, said his company is implementing its concept of a "multi-comfort house" in China. [Photo/provided to China Daily]
Construction giant Saint-Gobain establishes a market-leading strategy with focus on quality
Javier Gimeno, 51, sleeps for just five hours every day, but is a bundle of energy for his tightly scheduled mornings that are usually marked by meetings with colleagues, clients or the media.
The chief executive officer for the Asia-Pacific operations of the 350-year-old Compagnie de Saint-Gobain SA, a French habitat-and-construction giant, said the fast-changing market keeps him focused like a thorough-bred horse, his Chinese zodiac sign.
And like a horse, his review of the company's operations gallops across various industrial segments that Saint-Gobain caters to.
For the uninitiated, the business-to-business or B2B company's mind-boggling range of high-tech products and solutions are used in the construction or renovation of residential and industrial structures.
Saint-Gobain is known for its versatile glass products, premixed mortars and high-performance tiles. Plumbing, heating, sanitaryware, plasterboard, roofing, fencing, abrasives, tools, you name it, Saint-Gobain has a product or a solution for that niche.
Its philosophy is that moden habitats' thermal, air, acoustic, visual, modular and security aspects should be sustainable, in harmony, not only providing comfort to residents but safety to construction workers.
Gimeno said it's a philosophy known to the automotive, aeronautical, health, defense, security, food and beverage industries and millions of residences across the world.
He has been working in China for six years. In his towering office overlooking the Bund in the heart of Shanghai, he looks like a captain of a fleet, giving directions and sharing a bottle of Cava with his crew.
Despite the ups and downs in the volatile China market, the Fortune 500 company may have posted double-digit growth last year, with its sales forecast at 1.4 billion euros ($1.50 billion), accounting for some 50 percent of Asia-Pacific's total.
"It was a good year, and we feel comfortable despite the changing market conditions in China," said Gimeno.
Saint-Gobain's 350th anniversary celebrations started with an event in Shanghai. That's because it has been striving to get closer to its consumers in China through a series of campaigns and events.
"In the past, we were a little bit shy, but now, we are happy Saint-Gobain is more widely known in China," said Gimeno.
He exudes confidence as the market for its products and solutions is expanding on the back of three factors: the Chinese middle class' growing aspirations for a better life style following the rise in their disposable income, the accelerating urbanization process, and the government's commitment to reform economic growth patterns.
He said Saint-Gobain is well placed to contribute to efforts to improve air quality, climate change and the environment. To implement its concept of a "multi-comfort house", the company chose Changzhou.
Using rooftop solar panels, the house produces more energy than it consumes. Using its other products and technologies, it protects the interiors from heat during the summer, and captures heat for use during the winter, at the same time improving interior air quality.
The going was not always smooth in the price-sensitive China market though. "Saint-Gobain faced pressure initially. Lower priced, inferior products were in demand. Now, however, consumers realize the importance of quality. Middle-class consumers would like to afford the best they can," said Gimeno.
Automobile glass and construction materials are among Saint-Gobain China's fastest growing businesses. This shows Chinese consumers, manufacturers and property developers attach importance to product performance, said Gimeno.
For instance, the company's ClimatCoat glass is popular in China. It helps reduce heat from sunlight during summer and blocks heat in the car during winter, reducing not only the load on the air conditioner but fuel consumption and hazardous gas emission.
Similarly, Saint-Gobain's innovative window frame helps maintain room temperature, reducing energy consumption of homes and office/commercial buildings.
Its tile adhesive reduces dust by 80 percent, which protects construction workers' health.