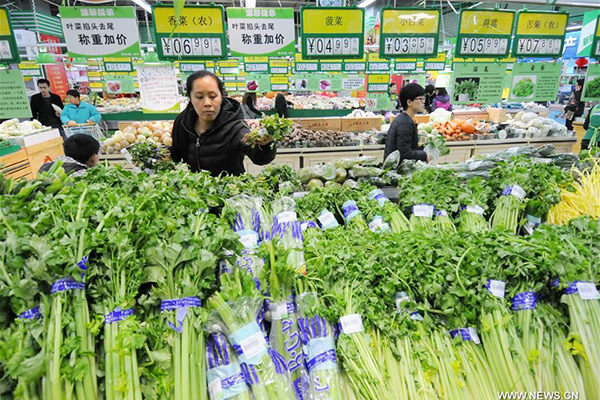 People select vegetable at a supermarket in Xingtai city, North China's Hebei province, Feb 17, 2016.
BEIJING - China's top statistics agency revealed changes to its consumer price basket on Friday, lowering the weight given to food while increasing that of other goods to reflect new consumption patterns.
The National Bureau of Statistics (NBS) has reduced the weighting of food, tobacco and alcohol in the basket by 3.4 percentage points, according to an article published on the NBS website.
Food prices accounted for nearly one-third of China's consumer price calculation in the past. As an economy grows and incomes rise, food generally accounts for a smaller share in consumer spending.
In its last adjustment, the NBS reduced the weighting of food prices by 2.21 percentage points in 2011.
The weighting of goods and services for daily life was down by 1.1 percentage points, while that of housing rose 2.2 percentage points, the NBS said Friday.
Weighting of transport and communications expanded by 1.1 percentage points. Medical and health care was up 1.3 percentage points.
The NBS also took new products and services into account in the consumer price survey, including floricultural products, pets, elder care and financial services, which have seen rapidly increased spending in recent years.
The new basket and survey catalogue were put into use for the consumer price calculation in January, when the NBS also changed the base year from 2010 to 2015.
The changes will affect the year-on-year inflation rate by merely 0.08 percentage points, the NBS said.
China's consumer price index (CPI), a main gauge of inflation, grew 1.8 percent year on year in January, up from a rise of 1.6 percent in December, while hitting a five-month high, NBS data showed.
Food prices edged up 4.1 percent year on year while non-food inflation climbed 1.2 percent, mainly due to higher prices of healthcare, clothing, education and entertainment.