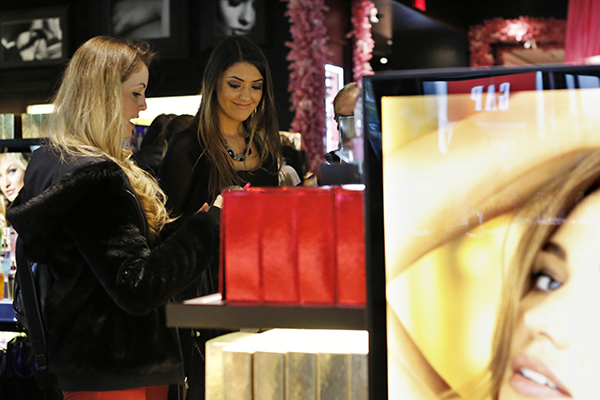 Shoppers browse the aisles of the Victoria's Secret flagship store in New York. [Photo/Agencies]
Heads-up, Hermes.
French archrival Louis Vuitton is leaving Shanghai's bustling Huaihai Road and taking its flashy neon and monogrammed accessory displays away from its position directly opposite the fifth global Hermes Maison store.
But the new neighbor is likely to be just as splashy.
Premium lingerie brand Victoria's Secret is opening its first store in the Chinese mainland that will actually offer its iconic bras and panties, an employee of the United States-based company's China office confirmed to China Daily.
The lingerie store will open in a 1,475-square-meter space at Lippo Plaza that formerly housed one of Louis Vuitton's four retail spaces in Shanghai.
The store is expected to open by the end of this year, though the exact date is not known as it mainly depends on when the lingerie collections clear customs, according to the employee, who spoke on the condition of anonymity.
Since the beginning of 2015, L Brands, Victoria Secret's parent company, has opened and operated 20 stores in mainland cities such Shanghai, Chengdu and Guangzhou. But they are all marketed as "Victoria's Secret concept stores" selling only accessories and beauty products such as perfumes, shampoos and canvas bags.
L Brands will continue to expand the concept stores in more Chinese cities, while remaining cautious about selling its core products, the employee said.
The lingerie industry has been on the upswing in China, with a double-digit growth rate. Consulting firm Frost and Sullivan estimated that by the end of the year, China's lingerie market was valued at $240 billion.
The country's increasingly sophisticated middle class is spurring the growth. Observers said the group is ready to spend large sums on intimate apparel, not just bags and shoes, to show off their new wealth.
Victoria's Secret's annual televised extravaganza is one of the world's most-watched fashion shows, featuring pop stars such as Taylor Swift and supermodels like Miranda Kerr. But the iconic lacy undergarments that the company has spent millions of dollars to promote, together with some of the most perfect bodies on the planet, remain available only in three countries, the US, the United Kingdom and Canada.