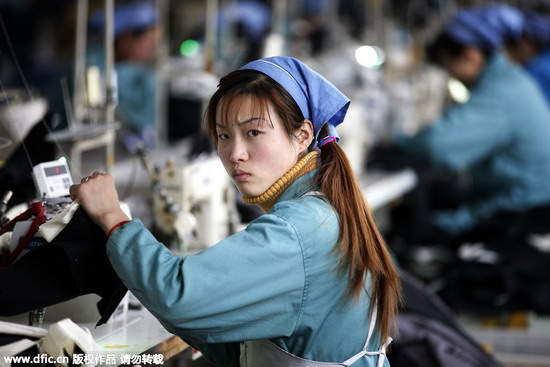 A female Chinese worker sews clothes at a garment factory in Huaibei city, East China's Anhui province, on January 20, 2015.[Photo/IC]
BEIJING -- China's labor productivity, measured by output per worker, rose 6.6 percent year on year in 2015, suggesting the economy has become more productive, official data showed on Monday.
Labor productivity stood at 76,978 yuan ($11,842) per person last year, up 4,733 yuan from 2014, marking the fifth consecutive annual gain, the National Bureau of Statistics (NBS) said.
At the end of 2015, China's total employed population stood at 774.51 million.
China created 13.12 million new jobs for urban residents last year, exceeding the official target, and the registered unemployment rate in cities was 4.05 percent at the end of 2015, according to the NBS.
China's economy grew 6.9 percent year on year in 2015, the slowest annual expansion in 25 years, with GDP reaching 67.67 trillion yuan.