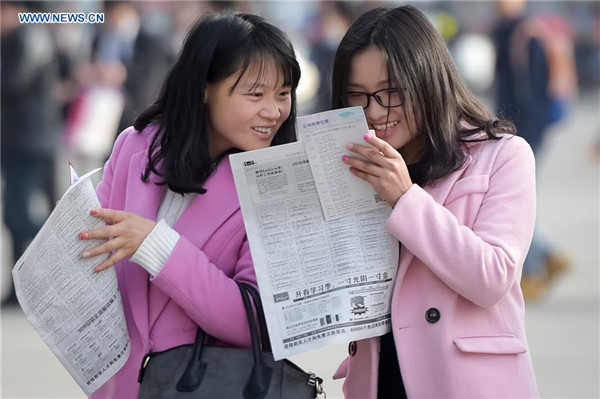 Job seekers attend a job fair in Hefei, capital of East China's Anhui province, Feb 20, 2016. The job fair offered nearly 10,000 jobs by some 800 enterprises.[Photo/Xinhua]
The weeks after the Spring Festival holiday were expected to see a job-hopping frenzy among white-collar workers.
According to a recent survey, only 5.1 percent of them said they didn't want a new job, according to Zhaopin.com, an online recruitment agency.
More than 54 percent said they had updated their resumes and were looking for new opportunities in the first quarter, compared with 47.8 percent in the first quarter of last year.
The survey, released on Monday, polled more than 21,000 white-collar workers in China. It found that their confidence in career development had reached the lowest level in three years, especially for those who work in State-owned enterprises and government-affiliated organizations, due to downward pressure on the economy.
White-collar workers born after 1990 also have the lowest confidence in career development, and were active in job-hopping. About 74.8 percent of respondents born in the 1990s said they wanted to find, or had already found, new jobs in the first quarter, while more than 60 percent of those born in the 1960s wanted to do so.
The industries with the highest numbers of job-hoppers were real estate and energy, in which more than 70 percent had already found or wanted a new job.
Wang Yixin, a senior consultant at Zhaopin, said the major reasons driving the job-hopping frenzy are salary and employment outlook.
Wang said that only employers with good financial situations and optimistic outlooks could attract more talent.
"The main reason behind the large number of people quitting in real estate and energy is that prospects are not optimistic," she said.