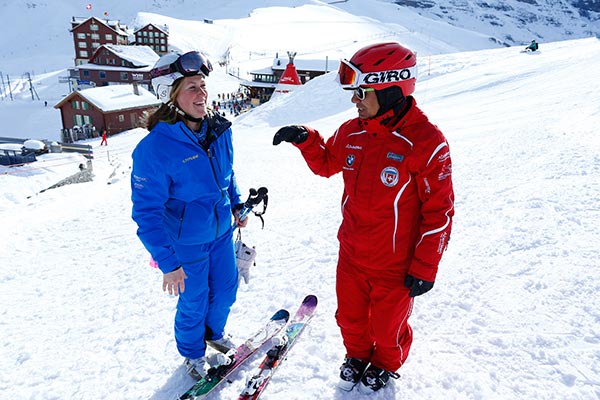 Ski instructor Xu Zhongxing (right) talks to a client at a ski resort in Switzerland. More and more Chinese are taking a liking to skiing there.[Photo/Agencies]
Zhang Qiong, 29, a resident of Beijing, will spend the seven-day Spring Festival holiday, which begins on February 8, with her parents on the Bali island in Indonesia. She confirmed her tour itinerary, including flights and hotel accommodation, this month. Only, Bali wasn't her preferred destination.
Zhang is among the many Chinese tourists who plan their holiday tours months in advance these days. But, even that is proving to be inadequate.
The travel agency's salesman told Zhang she could depart only on the third day of the holiday, not earlier. Tours starting on the first two days of the holiday were sold out much before she reached the agency. So, now that she bought a five-day Bali package tour, she will have to apply for one or two days of leave.
"It seems I was late even though I made the booking in December for a tour in February. I couldn't get the packages I really wanted," Zhang said.
Ever since the authorities released the 2016 Spring Festival schedule on Dec 10, travel agencies have been working overtime to meet tourist frenzy.
"We have seen a boom in the Spring Festival market although it is still more than a month away," said Liu Qing, CEO of the outbound tourism department of Tongcheng Network Technology Co Ltd, China's third-largest online travel agency based in Suzhou, Jiangsu province.
Agreed Li Mengran, public relations manager of Beijing UTour International Travel Service Co Ltd, a Beijing-based travel agency focusing on outbound tourism. "We have already sold out 80 to 90 percent of the tours that start at the beginning of the holiday."
"The overseas long-term packages sold like hot cakes in early December," said Dai Yu, marketing director of Ctrip.com International Ltd, the largest online travel agency in China.
Yet, the number of Chinese outbound travelers during the Spring Festival usually accounts for just 5 percent of the whole year's figure, according to Ctrip.
Popular destinations include New Zealand, Australia, the United States and four European countries (the Czech Republic, Hungary, Austria and Slovakia), all of which received hundreds of bookings each day. Some tours were sold out by mid-December, Dai said.
Still, bookings continue unabated, and are set to exceed last year's figures, according to Tongcheng.
Liu said the November terrorist attacks in Paris appear to have made some travelers drop their initial West-bound plans and instead pick destinations in Japan, South Korea and Australia.
Southeast Asia, Japan and South Korea are usually the main destinations for the short-haul travelers, Liu said. Sales of short-haul packages contributed more than 50 percent to Tongcheng's total sales of Spring Festival outbound tourism.
On Dec 21, Tongcheng announced that Japan, South Korea, Thailand, Bali Island in Indonesia, as well as domestic places such as Hong Kong and Macao are among the most popular destinations this year among its patrons.
Statistics from the Travel Industry Council of Hong Kong showed that in the first 10 months of this year, the number of Chinese mainlanders visiting Hong Kong dropped 20 percent compared with the same period of 2014. The violent killing of a male tourist from the mainland in Hong Kong in October this year is expected to further affect travel to Hong Kong.
The Spring Festival tour packages are slightly more expensive, Liu said, but added prices are stable this year compared with last year.
Experts said the boom in outbound tourism during the Spring Festival in February and the National Day holiday in October seems to suggest that many Chinese residents are yet to enjoy paid holidays. For, most working people still do not have long-term leave, said Jiang Yiyi, director of the international tourism department at the China Tourism Academy.