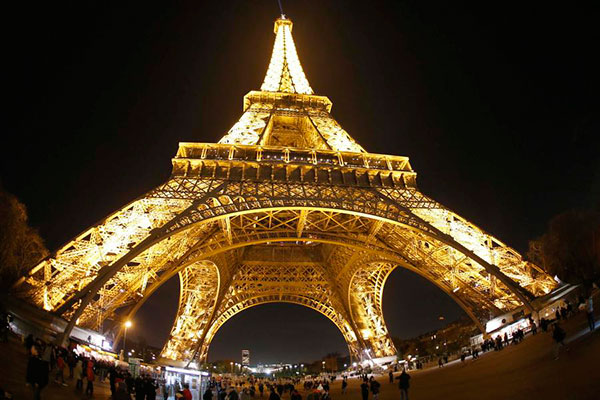 Tourists walk under the Eiffel Tower in Paris during the holiday season in Paris December 9, 2014.[Photo/Agencies]
PARIS - France received a "record" number of Chinese holidaymakers this year, according to French Foreign Affairs minister Laurent Fabius on Friday.
Presenting tourism data, Fabius estimated more than 2 million Chinese visitors came to France in 2015. For the January-August period, 47 percent more tourists from China visited Le Chateau de Chambord, in central France and the number of those visiting Chateau de Versailles increased by 4.2 percent.
Data released by Regional Tourism Committee showed the number of Chinese visiting the French capital Paris and suburbs jumped by 48.9 percent over the period against last year's performance.
"The goal we have set with our Chinese officials, is to reach quickly 5 million (Chinese tourists)," Fabius said, attributing the growing share of Chinese market to the "excellent relations between Chinese and French authorities."
"The fact that we had many visits of French officials to China and of Chinese officials to France, the fact that visas have been facilitated, the fact that we improved security -- they show that we are in the right direction, but, I think we are still in the beginning of the process," Fabius stressed.
According to official data, outside Europe, China is France's second biggest tourist market in 2013 after the United States, with 1.7 million visitors and 600 million euros ($681.84 million) of revenue.
Welcoming 84.1 million tourists in 2014, France confirmed its position as world's most visited country.
Tourism in France accounts for 7 percent of the national output and employs 2 million people.