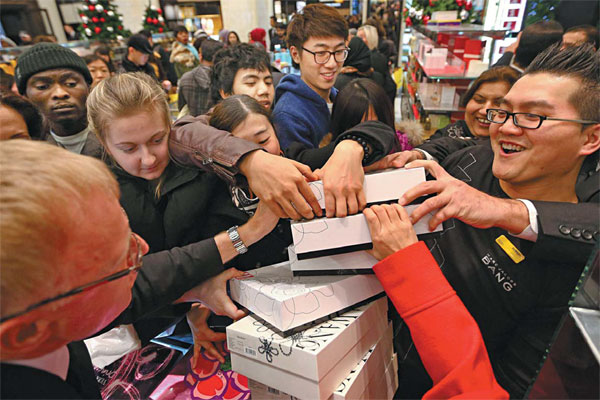 Customers, among them many Chinese, try to grab a bargain at a perfume counter at Selfridges department store in London. [Photo/Agencies]
The Chinese tourists who have become a common sight in the world's major cities fear their wings will be clipped if Tuesday's shock yuan devaluation develops into a deeper dent in their spending power.
More than 100 million Chinese travel abroad every year, buying more luxury goods than any other nation. Shopping for the perfumes and designer clothes that can cost them twice as much at home is a major travel incentive.
"I'd planned to go to Seoul this month with my friends and then Thailand alone in October. But I'm afraid the yuan will devalue more," Huang Xuechang, a 48-year-old housewife from Guangzhou, told Reuters. "So I think I won't go to Seoul for shopping, but just to Thailand for sightseeing."
Huang Ruifen, a shop owner from Guangxi on a shopping trip to Hong Kong, was equally decisive. "I'll stop buying luxuries until the yuan is up again," she said.
China devalued its currency by 2 percent after a run of poor economic data - a move some economists think could herald a longer-term slide in the exchange rate. The downward move was the biggest since a massive devaluation in 1994, and appeared to reverse a previous strong yuan policy.
Investors were quick to bet companies like Louis Vuitton holding company LVMH, Gucci owner Kering and L'Oreal could suffer. The stocks were among the biggest fallers on the Paris stock market, dropping between 1.5 and 4 percent. The companies declined to comment.
Shop abroad to sell at home
Chinese tourists have been spending record amounts on luxury goods this year, VAT-refund company Global Blue said in a report published in April. For European destinations, the weak euro has been a big draw.
Analysts reckon Chinese luxury spending accounts for as much as 45 percent of the global market - up from effectively zero a decade ago. Chinese account for well over a third of total European luxury spending.
Despite the market reaction, the potential currency effects are mixed for the industry.
Global Blue says as much as 40 percent of Chinese tourist purchases abroad are destined to be sold for a profit back home on the grey market, so a weaker yuan may just displace some sales back into China.
Luxury sector margins are also generally higher in Asia, although the currency translation effects for European-based companies could cancel out some of that benefit.