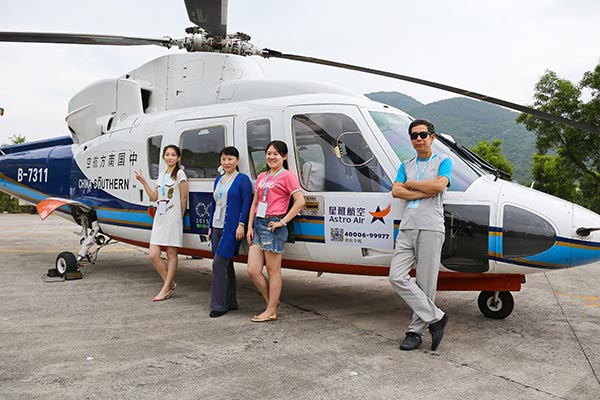 A helicopter of Astro Air Co Ltd, a privately owned general aviation company based in Shenzhen. The company will offer helicopter commuter services between Shenzhen, Guangzhou and Zhuhai from Thursday. [XUAN HUI / FOR CHINA DAILY]

Astro Air planning commuter flights to major destinations
A helicopter commuter service between Guangzhou, Shenzhen and Zhuhai, three major business cities in Guangdong province, will make its maiden flight on Thursday, the first of its kind on the Chinese mainland.
It will take only half an hour to make a trip between two of the cities, one-fifth of the travel time by other means of transportation, according to Zhu Zilin, chief of the helicopter service team at Astro Air Co Ltd, a privately owned general aviation company based in Shenzhen.
The takeoff and landing points are located in the CBD areas of Guangzhou and Shenzhen and in the Hengqin New Area of Zhuhai, which is part of the China (Guangdong) Pilot Free Trade Zone, and adjacent to Macao.
"The airborne taxi service has been launched to meet the growing need for efficient, point-to-point business travel as regional economic exchanges within the Pearl River Delta and between Guangdong, Hong Kong and Macao get closer after the Guangdong free trade zone was established," Zhu said.
A single trip ticket is priced at 4,999 yuan ($770), and Zhu said that his company has noticed a big market and strong enough consuming power in the prosperous Pearl River Delta.
Caesar Wong, a partner of Deloitte China and an adviser for China's free trade zones, welcomed the helicopter commuter service. His office is in the building where the service's flights will take off and land in Guangzhou's Zhujiang New Town.
"I used to travel to Guangzhou, Shenzhen and Zhuhai within one day, but it was really difficult to do so by car, considering the traffic jams," Wong said.
"Time is money, and I would like to spend money on the helicopter service if it is an urgent, important meeting."
He added that the inter-city helicopter service meets the need of China's vigorous regional economic development in recent years.
Astro Air is planning to expand the helicopter service to other cities in Guangdong province including Dongguan, Foshan, Huizhou and Jiangmen, and launch such services between a city's CBD and its airport, according to Nanfang Daily.
Zhu said that his company will bring the inter-city helicopter service to the Yangtze River Delta, where Shanghai and Zhejiang and Jiangsu provinces are located, in the second half of 2016 and later to the Beijing-Tianjin-Hebei area.
"Business trips by helicopter are common in overseas metropolises such as New York, Tokyo and Sydney. As China's economy develops, more options for transportation should be provided to meet the needs of different types of travelers," Zhu said.
China's policymakers are mulling loosening restrictions on general aircraft, ranging from helicopters to private jets, from flying in low-altitude airspace below 1,000 meters.
However, general aviation companies still need to go through a complicated approval process to enter the low-flying commuter services market and not many real estate developers had the foresight to provide suitable rooftop takeoff and landing points, according to Zhu.