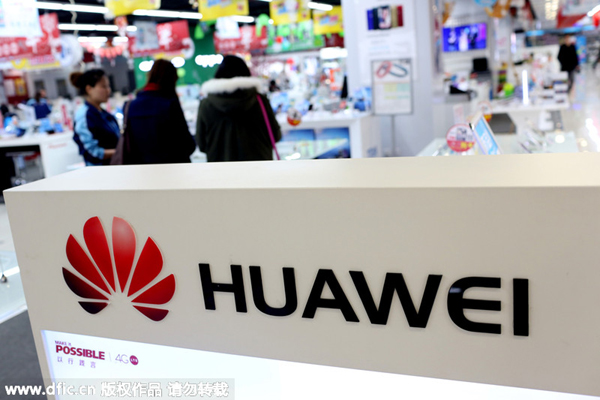 A counter of Huawei is seen at an electronic products market in Shanghai, Feb 17, 2015. [Photo/IC]
Chinese telecommunications companies are scouring the ocean bottom for new growth opportunities and profits.
Huawei Technologies Co Ltd and other State-owned carriers are inking deals to lay transcontinental undersea cables after the industry watchdog gave the green light for export of homemade information technology products.
Miao Wei, the industry and information technology minister, said in an annual work report last week that China will encourage local enterprises to go abroad and participate in construction and operation of overseas telecom projects next year.
Huawei Marine Networks Co Ltd, a joint venture between Huawei and United Kingdom-based Global Marine Systems Ltd, said in October that it was building a 6,000-kilometer cable project connecting Cameroon in Africa and Brazil in South America.
The project, scheduled to be completed by 2017, is set to be a major data link between Africa and South America, said Huawei Marine, which won the bid after beating Alcatel-Lucent and NEC Corp.
Using a self-developed technique that can reduce construction costs, the Chinese company is currently laying a cable that can transmit 32 terabytes of data in a second on the seafloor of the Atlantic. The construction cost for undersea cable project is well above $200,000 for each kilometer and burying cables in the deep ocean could increase costs.
Huawei Marine did not disclose the size of the contract. China United Network Communications Group Co Ltd, a State-owned carrier in China, is the joint investor in the project.
The Cameroon-Brazil project fits well with the government's vision.
Miao said China's focus for next year is to help East African economies build an information highway-a plan to connect countries such as Egypt, Burkina Faso and Cameroon with the rest of the world using the latest telecom infrastructure.
"The government is increasing investment in Africa, which gives Chinese IT companies bigger options to land deals," said Sun Pishu, CEO of Chinese server maker Inspur Technologies Co Ltd.
Cao Shumin, president of the government think tank, the China Academy of Information and Communications Technology, said despite government support, technology advantage is key for Chinese companies to win overseas deals.
The cash-rich carriers, including China Unicom and China Telecommunications Corp, also agreed to join with global firms to build a 13,000-kilometer cross-Pacific fiber-optic submarine cable that connects China, South Korea and Japan with the United States. The project, named New Cross Pacific, will be operational by 2018.
In 2014, two subsidiaries of China Mobile Ltd and China Telecom joined a Google Inc-led project to build a $300 million trans-Pacific cable.