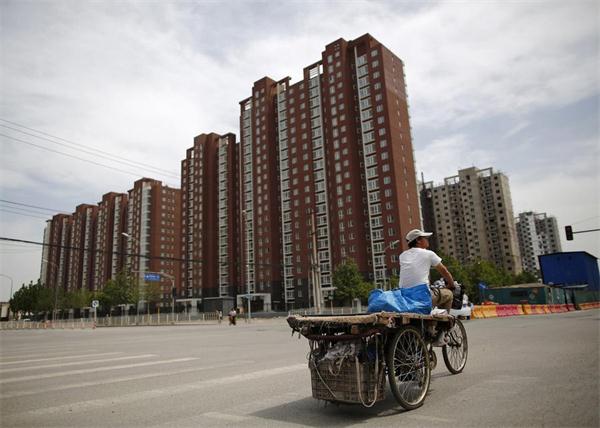 A garbage collector rides his tricycle as he looks for recyclable items on the streets of Beijing May 26, 2014. [Photo/Agencies]
China's housing minister said on Monday that governments will stop building rental housing units to accommodate migrant workers and people displaced by demolitions or renovations of urban residences or shantytowns.
Instead, subsidies will be ramped up for those in need of rental housing, and people will be encouraged to find their own accommodations from private owners.
Minister of Housing and Urban-Rural Development Chen Zhenggao raised the issue at the ministry's annual work conference, saying it's part of the country's agenda for boosting the rental housing market.
That agenda dovetails with a broader plan to assimilate 274 million migrant workers as urban residents, providing a new source of demand for housing, education and other consumption tied to the economy.
The approach outlined by Chen marks a major shift from the previous approach under which governments built massive amounts of rental housing and assigned units to applicants, analysts said.
By the end of 2014 there were 16.6 million units of public rental houses, according to the ministry. Of the 36 million units of State-funded homes that China pledged to build from 2011 to 2015, rental housing accounted for nearly one-third.
The rest included affordable housing and shantytown renovations.
"There was a rental housing boom, but problems abound," said Zhao Luxing, a research fellow with the policy research center at the ministry. "Applicants complain that the assigning process is unfair and that housing goes to the privileged rather than to those in need. A considerable portion of homes have been left idle after being completed."
Under the new approach, renters would have the option to apply their subsidies to rent, depending on personal preference.
Chen also said 6 million dilapidated units would be renovated next year, up from 5.8 million units this year. Of the families displaced by the renovation projects, more will receive cash compensation instead of new homes.
This year, 28 percent of families have been compensated in this way, he said. That number is expected to increase next year.
Zhao, the researcher, said governments are increasingly negotiating with developers to sell unoccupied homes at a discount to people who have been dislocated. Governments may also buy the homes directly and sell them to dislocated people.
That method could help reduce inventory by 180 million square meters next year, Zhao said.
"There are vast numbers of unsold homes, but migrant workers can't afford them even if subsidies are given," said Yao Yang, dean of the National School of Development at Peking University.
Governments can negotiate a discount with developers and sell to migrants, Yao said. "Will developers agree? Yes, because they are plagued by the housing glut."