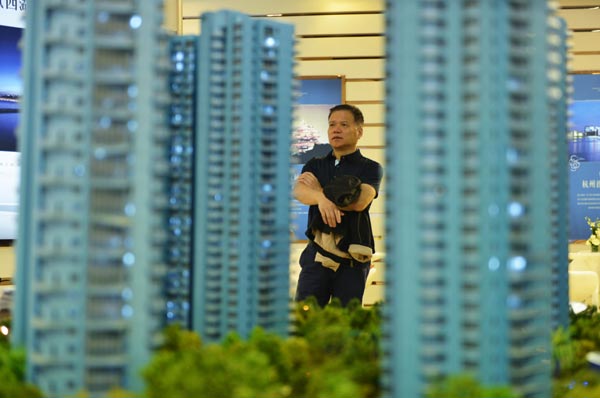 A man examines property models at a housing sales center in Hangzhou, capital of Zhejiang province. [Photo/China Daily]
More than half of Chinese depositors regard homes as too expensive in the fourth quarter, according to a survey released by China's central bank on Thursday.
The survey of 20,000 urban depositors in 50 Chinese cities by the People's Bank of China finds that 52 percent of respondents think home prices are "high and unaffordable", up 2.4 percentage points from the third quarter, setting a new high since the beginning of this year. Over 44 percent say housing prices are "acceptable" and 3.8 percent are satisfied with current prices.
As to housing prices in the coming quarter, 18.4 percent expect "an increase", 52.7 percent predict "basically no change", 15.2 percent look for "a drop" and 13.7 percent have no idea.
Residents who plan to buy homes in the coming three months account for 14.7 percent in the fourth quarter, up 0.9 percentage points from the previous quarter.
Zhang Dawei, chief analyst at Centaline Property Agency, said the results indicated that stimulus measures since the beginning of the year have begun to pay off in the housing market.
While first and second-tier cities need no more stimulus, third and fourth-tier cities have "sunken into a deep mire", said Zhang, adding that he expected the government to roll out more policies to encourage home purchases.
Yan Yuejin, a researcher at the Shanghai-based E-house China R&D Institute, said home prices will remain on a par with current levels.