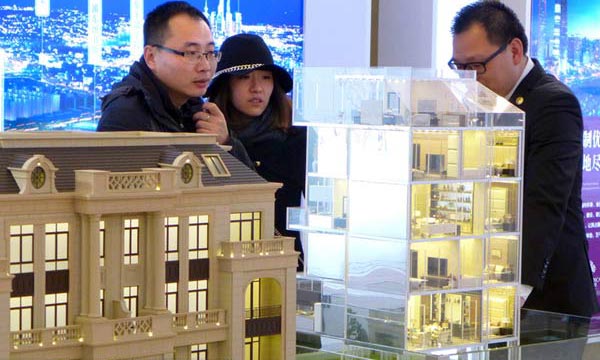 Chinese homebuyers look at models of residential apartment buildings during a real estate fair in Shanghai, Dec 13, 2014. [Photo/IC]
Share prices of property developers listed in Shanghai and Shenzhen surged last week after the country's top leadership vowed to stabilize the inventory-laden real estate sector.
Market analysts see long-term growth opportunities in the sector as they anticipate more detailed pro-industry measures from the government.
Last Monday, a key meeting of the Political Bureau of the Communist Party of China discussed major economic tasks for 2016. It said one key task is to increase effective demand for properties.
A circular released after the meeting suggested there are hopes housing inventories would be trimmed as more and more workers and professionals migrate to urban areas, and, in response, policies are reformed to meet the new demand for urban housing.
Sections of China's stock markets cheered the Party's view. Shares in more than 10 developers listed in Shanghai and Shenzhen surged some 10 percent over the next two days.
Despite the US Federal Reserve announcing a 25-basis-points rate hike on Thursday morning (Beijing time), property-related A-shares led the market-wide rise on Thursday.
The rise was not always expected, though, The months-long run-up to the US rate hike had market mavens worried that any Fed announcement might have a negative impact on China's stock and property markets.
It was also feared a US rate hike would trigger foreign capital outflows from China into dollar-denominated property markets.
But, analysts said, as the meeting of China's top leadership, which preceded the Fed rate hike, signaled policy reform to rejuvenate the property market, the US news did not hurt much as the real estate sector is now seen as a safe bet for long-term growth opportunities.
A research note from Shanghai-based Haitong Securities said that China's property market remains attractive to investors, particularly institutional investors like insurers. High-quality properties in prestigious locations and affordable housing projects in cities with expanding populations will likely be in demand.
Analysts said that China's real estate has been undergoing adjustments through a record supply-end contraction to re-balance supply and demand in the next two years.
A research note by Beijing Gao Hua Securities Co Ltd said that residential land sold was down 41 percent year-on-year by August this year, on top of the 34 percent year-on-year decline in 2014-that is, half of the average of the past five years.
Similarly, new housing starts were down 17 percent by August 15, after a 11 percent year-on-year decline in 2014, according to the report.
On the other hand, amid successive interest rate cuts in China and the easing of mortgage restrictions by the government, property sales volume rose 7 percent in August 2015.
As a result, inventory has been on a declining trend across all city-tiers, the report said. "There are reasons for the real estate market to be cheerful as the balance between supply and demand has been improving, and valuations of developers may be higher," said Wang Yi, a researcher with Beijing Gao Hua Securities Co Ltd.
Not everyone agrees. Wang Tao, chief China economist at UBS AG, said contraction in property supply may remain for another couple of years. "Inventory pressure in third-and-lower tier cities is particularly high and developers are prudent not to start new projects until mid 2016. It may take one or two years to see investment recovery."
For investors who wish to buy and hold property-related A-shares, analysts said it is essential to focus on profit-making ability of companies. Opportunities may emerge from market consolidation.
Yang Hongxu, deputy head of the E-house China R&D Institute, a property market researcher, said as real estate development plays a significant role in China's economic growth, it is expected that more measures will be rolled out to encourage developers to increase investment in 2016.
Expected measures include further easing of limits on purchases and more cuts in interest rates, which could encourage potential home buyers to go in for improved housing.
Some developers appear to be well-prepared to ride the boom that is expected to entail anticipated policy changes. Those who allocate resources to new developments in specific regions and provincial capitals are likely to enhance their core competence, said Yang.