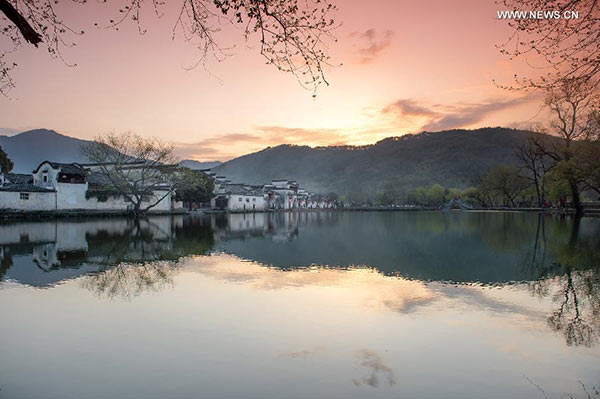 Photo taken on March 25, 2015 shows the morning scenery of Nanhu, or South Lake, at Hongcun, an ancient village in Yixian county of Huangshan city, East China's Anhui province. Listed as a world cultural heritage site, the village preserved a remarkable extent of the surviving examples of Anhui-style architecture. [Photo/Xinhua]
Walking through the countryside has become a passion over the years. Leaving the hustle and bustle of the cities for a slice of rural China is always a pleasure, an exhilarating experience.
On a recent trip to the aptly named Four Seasons Flowers Sea in Yanqing county, about 80 kilometers from downtown Beijing, I was particularly struck by its breathtaking beauty.
Yanqing, a national ecological demonstration base, will be one of the sites for the 2022 Winter Olympics. In the past four years, with an investment of 30 million yuan ($4.71 million), Yanqing has turned a once farm-field valley into an attractive place with beautiful names such as the "Most Beautiful Country Road".
But Nature has really made the biggest investment here.
Built during the Ming Dynasty (1368-1644), Sihai town in the heart of the Haituoshan mountain valley is especially striking with its flower fields decked in a rainbow of colors. The terrace landscape catches the eye, while the sweet fragrance of flowering crops hangs over the valley, which stretches 47 km and covers more than 660 hectares.
Here, it is hard to picture my world of hard economics and business. Yet, these rural regions of China are going through a mini boom due to the influx of tourists over the weekends, especially the enthusiastic ecological leisure travelers.
The State Administration of Tourism figures show rural tourism has seen an annual growth rate of 20 percent in recent years, and tourists visiting the countryside made up 70 percent of the domestic tourism last year, generating 320 billion yuan in revenue.
Naturally, the local communities are benefiting from these cash injections. Sihai town is just one example of a piece of paradise that is harvesting the fruits of more jobs and rising incomes from economic success.
Promotion of rural tourism has become a key government policy. This, of course, echoes the domestic tourism trend in the West, particularly in the United States and Europe, where hiking vacations are common.
In China, a raft of policies and guidelines have been unveiled, stressing the role of rural tourism in the battle to alleviate poverty and the reshaping of the agricultural industry to create jobs for the millions of university graduates and workers returning to the countryside from the cities.
Indeed, more is still being done to tap into domestic tourism.
At the central government level, a nationwide project has been rolled out to boost the sector. The plan is to entice 2 billion urban travelers to rural resorts with special features that will provide unique personal experience every year in the next five years. Around 3 million farmers' family-run businesses are likely to benefit by supplying accommodation and authentic local cuisine.
Outside private investment also has, and will continue, to follow. As the property market cools, funds are being switched to leisure activities, which will help stimulate the rural tourism sector.
In the future, rural tourism could spawn a new breed of "green billionaires".
But, of course, there will be challenges along the way. More infrastructure will have to be put in place such as transport links, without ruining the picturesque landscapes.
A colleague from India, who is just back from a visit to the Great Wall at Simatai in Miyun county, cannot stop raving about the beauty of rural China, but found weekend peak-hour public transport woefully inadequate.
So, careful planning is an urgent issue to be called for if these hidden jewels of China are not to be wrecked by speculators and flawed policies.
Looking at how Western nations deal with rural tourism will offer important lessons. Provence in southeast France is an exceptional example. The province is known for its food, wine and local crafts as well as its unique culture and superb landscape.
Tourism and local culture have managed to forge an ideal partnership, which in turn has helped fuel the economy. This is a model worth looking at.
China needs to mix and match its rural policies to retain the natural beauty of the countryside, while improving the lives of those who live there through sustainable tourism. As the central government has stated: "China's agriculture should be strong, Chinese farmers should get rich and Chinese villages should become beautiful."
Enlightened rural tourism can do just that.