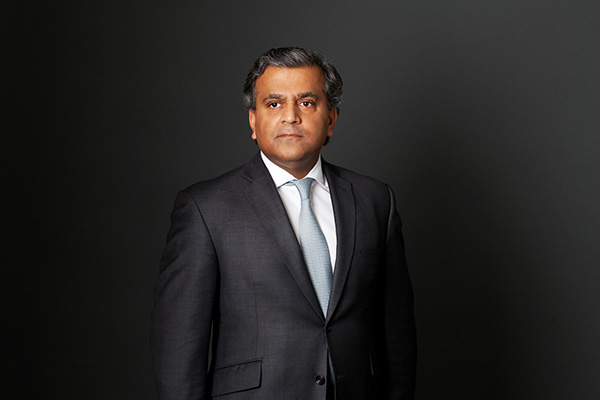 Dev Sanyal, BP's executive vice-president for strategy and regions. [Photo/China Daily]
Oil and gas giant BP Plc is expected to sign several agreements with Chinese companies during President Xi Jinping's ongoing state visit to the United Kingdom, as the two countries strive for greater energy cooperation.
"We see great potential for enhanced cooperation and collaboration between both sides, and the agreements will demonstrate our long-standing commitment to China," said Dev Sanyal, BP's executive vice-president for strategy and regions, without giving more details on the possible contracts.
Last year, BP signed a deal worth around $20 billion to supply liquefied natural gas to China National Offshore Oil Corp during Premier Li Keqiang's official visit to the country.
Analysts said cooperation is also likely in areas like crude trade and clean energy technologies amid mounting pressure caused by growing air pollution.
Sanyal said as China has set an ambitious target to cut its greenhouse gas emissions per unit of gross domestic product by 60 percent to 65 percent from the 2005 levels by 2030, there is big market potential for natural gas as a clean source of energy.
"In the past decade, China has been among the fastest-growing gas markets globally. We believe that with the continuing expansion of the Chinese economy and China's environmental focus, the momentum in gas demand growth will continue in the long run," he said.
BP is working with the "big three" oil majors in the world's largest energy-consuming country-CNOOC, CNPC and China Petrochemical Corporation, known as Sinopec-in several areas including natural gas supplies, advanced fuels and lubricants.
In July, BP's petrochemicals facility in Zhuhai, Guangdong province, started making purified terephthalic acid, a key raw material used in the manufacturing of clothing, plastic bottles, packaging material and film products.
The British oil giant also set up a marine fuel company in May with top oil refiner Sinopec to expand its presence in overseas markets and China. The tie-up is mainly focused on major global ports like Fujairah in the United Arab Emirates, Rotterdam in the Netherlands, and Tianjin, Qingdao, Shanghai, Ningbo and Shenzhen in China.
Calling the visit "a historic event" that "heralds the start of a 'golden era' in China-UK relations", Sanyal said it will also create more business opportunities and help bring together innovative developments.
The company forecast that China will overtake Russia as the world's second-largest gas consumer in the mid-2020s, and the United States as the world's largest oil consumer around 2030.
Until now, BP has made an accumulated net investment of about $4.5 billion in China, the vast majority focused on the Pearl River and Yangtze River delta regions.