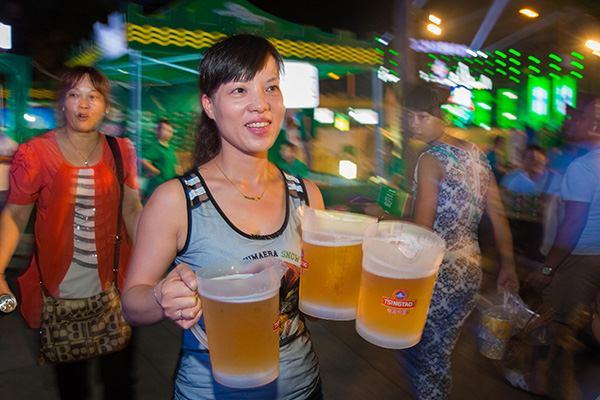 An attendant serves customers at a Tsingtao beer festival in Jiujiang, Jiangxi province. Tsingtao Brewery Co Ltd said it would buy the remaining 50 percent stake in a joint venture with Suntory Holdings Ltd for $129.5 million. [Photo/China Daily]
Chinese brewer to acquire balance 50% stake in venture for about $129.5 million
Tsingtao Brewery Co Ltd said on Monday that it is to buy the 50 percent stake it does not own in its loss-making joint venture with Japanese beverage conglomerate Suntory Holdings Ltd for 822.9 million yuan ($129.5 million) to boost efficiency.
The joint venture has run into rough weather as sales have stalled amid stiff competition in the Chinese market.
Tsingtao said the stake purchase deal includes Suntory Tsingtao Brewery (Shanghai) Co Ltd and Tsingtao Brewery Suntory (Shanghai) Sales Co Ltd, from Suntory.
The Chinese company will enter into a separate agreement for the rights to use Suntory's trademarks for a license term agreed by both parties, it said in a regulatory filing to the Hong Kong bourse.
According to Euromonitor International, despite its presence in the Chinese market since 1981, Suntory had just 1.4 percent market share in 2014, far behind China Resources Enterprise Ltd at 23.2 percent, Tsingtao at 18.4 percent and Anheuser-Busch InBev at 14 percent.
The deal also highlights the challenges Japanese brewers are facing in the global beer market, which is set to be dominated by a planned merger of the two biggest players-Anheuser-Busch InBev and SABmiller Plc. Japanese media reported that Suntory will now focus largely on soft drinks, white spirits and wine.
The deal is subject to approval by the Ministry of Commerce, Tsingtao said. Trading in the company's shares in Hong Kong was suspended on Friday. Tsingtao's share price closed at 34.04 yuan ($5.35), up 1.16 percent, at the Shanghai Stock Exchange on Monday, and was down 0.56 percent to HK$35.3 ($4.55) per share at the Hong Kong bourse.
Fang Gang, an beer industry analyst, said the move will benefit Tsingtao as it will boost its market share in Shanghai and Jiangsu province where the joint venture is based.
"For those who are not in a majority position in the market, exiting is a rational decision," said Fang.
Molson Coors Brewing Co, the second-largest beer producer in the United States, is also reported to be exiting the Chinese market because of increased competition from smaller beer brands. The company has been in China since 2001, selling predominantly its Coors Light product.
The company is believed to have effectively ceased operations in China, terminated the contracts of its staff, and plans a full withdrawal by the end of the year.
According to market research firm Mintel Group Ltd, the beer market in China will become even more consolidated with leading players snapping up local brands, as the gap between what constitutes a local and international brand blurs.