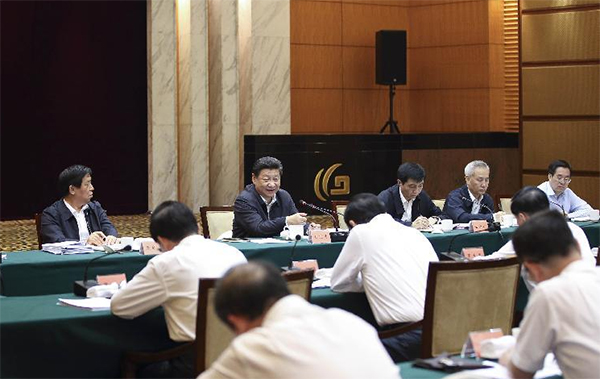 Chinese President Xi Jinping (2nd L, back), also general secretary of the Communist Party of China (CPC) Central Committee and chairman of the Central Military Commission, speaks during a meeting on the 13th five-year plan period (2016-2020) with leading officials from seven regions in east China: Shanghai, Anhui, Fujian, Jiangsu, Jiangxi, Shandong and Zhejiang in Hangzhou, capital of east China's Zhejiang Province, May 27, 2015.[Photo/Xinhua]
Chinese think tank researchers are calling for a more active approach to the country's foreign economic relations in contributing ideas to the 13th Five-Year Plan (2016-20).
They are calling for the government, as the representative of the world's second-largest economy, largest developing country and a rapidly rising power, to seek a more prominent role in all global economic negotiations.
Li Anfang, a researcher with the Shanghai Academy of Social Sciences, even proposed setting up a new high-level commission, more powerful than the Ministry of Commerce, to coordinate policies in the nation's increasingly diverse and complex foreign business affairs.
Few researchers said they want the country to backpedal after decades of reform and economic opening-up.
The Central Committee of the Communist Party of China will meet from Oct 26 to 29 in Beijing to come up with a draft for a new five-year socioeconomic program, including proposed foreign business policies, in which all investors in China will have a stake.
Li, in an interview with China Daily, said the country needs a new starting point, and to change from being a passive follower of the global system to a more active, if not more aggressive, participant in the new governance of international business relations.
The sluggish global recovery following the devastating financial crisis in 2008 has made it impossible for China to stick with its previous model of export-led economic growth.
Li cited a report by World Trade Alert, an initiative run by the Center for Economic Policy Research in London, as saying that since 2008, at least 40 percent of the trade protectionist measures adopted in the world have been targeted at China.
But as developed countries strive to "reindustrialize", China faces increasingly stiffer competition from Western nations armed with new technologies and industrial capabilities.
Opinions are also mounting for China to assume greater economic, political and even military responsibilities globally.
Li and his team completed their study of China's future tasks in global business relations and sent their report to leading government authorities.
Li said in the report, "It is advisable for China not to seek to start all over again in respect of the world economic order and rules." Even though the global economic system needs reform to varying degrees, China had better pursue such reform by offering new solutions.
Economists have suggested that as a more active global business player, China should lead more global and regional development programs, apart from seeking to take part in future rule-making.
China Southern Fund strategist Yang Delong said it is noteworthy that the Chinese government recently drew up several regional development programs, ranging from the new Silk Road initiative to many cross-provincial economic integration projects.
Zhang Jianping, an official in charge of international cooperation at the National Development and Reform Commission, said one aim of the regional programs is to seek and sometimes nurture new growth points.
Sun Jiuwen, a specialist in economic geography at Renmin University of China, said this is to allow these regions to be growth leaders and spread economic opportunities to nearby areas.
According to the Ministry of Commerce, in the first half of the year China directly invested $7 billion in its new Silk Road initiative in 48 countries, a year-on-year increase of more than 22 percent.
Imports from and exports to all "Silk Road" countries amounted to nearly 3 trillion yuan, nearly 25 percent of its total foreign trade in the same period.