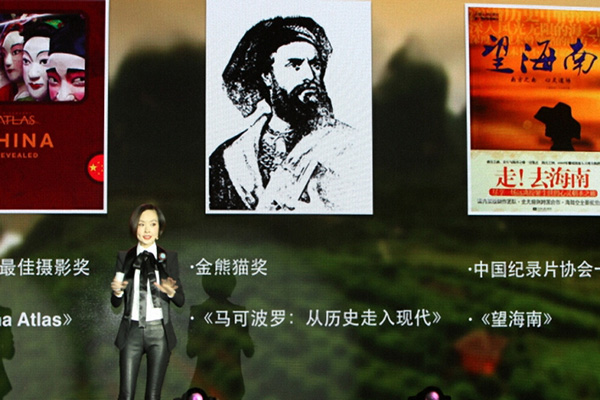 Chen Luyu, a Chinese talk show host often described as "China's Oprah", hosts a show that highlights the achievements made by the Beijing Nengliang Film & TV Co Ltd in the past 10 years. [Photo/China Daily]
Chen Luyu, a Chinese talk show host often described as "China's Oprah", has become one of the major shareholders in Beijing Nengliang Film & TV Co Ltd, which was listed on the New Third Board last month.
The 45-year-old Chen, who is well-known for her talk show A Date With Luyu, holds shares amounting to a 4.56 percent stake in the company and is its fifth-largest shareholder, according to regulatory filings. The Beijing-based Nengliang Film & TV is a television and Internet video content service provider.
Shanghai-based stand-up comedian Zhou Libo, known for his "venomous tongue", holds shares representing a 2.81 percent stake in Nengliang and is among the top 10 shareholders.
Set up in 2004, Nengliang Film & TV owns rights to several popular TV shows including A Date With Luyu, which is similar to the famous United States talk show-the Oprah Winfrey Show.
It also owns rights to shows like Mr Zhou Live Show, which features host and comedian Zhou Libo, the Super Speaker Season and Luyu's Gift.
The company has also produced documentaries like Eyeshot of the Phoenix and Panchen Lama, as well as some TV series and programs featuring Chinese cultural and economic information.
After its listing on the New Third Board, the company plans to extend its television content provision services to other platforms like video websites and mobile applications.
Nengliang Film & TV had sought permission for a public listing on the A-share market last year, but did not get the approval from the securities regulator.
However, the successful listing on the New Third Board is expected to enrich celebrities like Chen, attract potential investors and boost sales.
Yao Xueye, a bank clerk from Beijing, said: "It is easy for the celebrities to make money due to their popularity and connection with investors. Fans would keep a close eye on the listed company if their favorite actors or singers own or buy shares in it."
Despite its celebrity quotient, the company said its future business operation and development will not entirely depend on the two small-screen stars.
Many Chinese celebrities are already making profits from the stock market. These include Zhao Wei, a leading actress who has been nicknamed "China's show business Buffett". Zhao has invested in Hong Kong-listed Alibaba Pictures Group, an entertainment company backed by e-commerce giant Alibaba Group Holding Ltd, according to a regulatory filing.