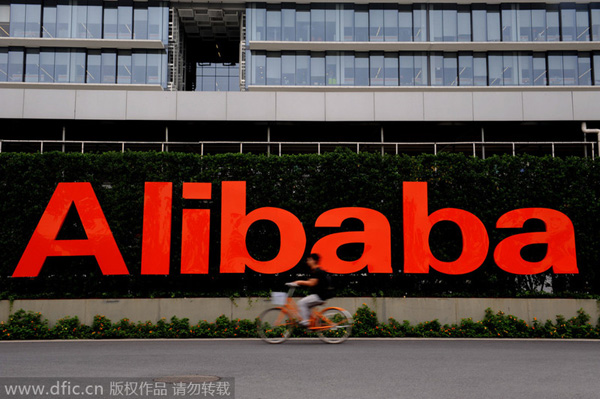 A cyclist rides past a signboard of Alibaba Group in Hangzhou city, East China's Zhejiang province, June 25, 2014. [Photo/IC]
Qian Ming is a movie buff but frequently has to give her cinema ticket away because of business commitments.
As a fashion designer in Beijing, the 26-year-old usually ends up missing out on the latest must-see film after getting snowed under at work.
But all that could change as Alibaba Group Holding Ltd has announced plans to link up with a major cinema chain in the capital to allow customers to swap their tickets, or simply get a refund.
"This really helps a lot," Qian said. "Now, I can simply change my ticket for the same movie for a later date."
Last month, Alibaba rolled out a management system, which allows tickets to be rescheduled or refunded for the Capital Cinema chain.
Customers need to apply 24 hours before the show time to receive a refund and three hours to change their tickets for a later show.
Naturally, this new service, launched by Alibaba's software division, Guangdong Yueke Software Engineering Co, can do more than produce refunds.
It also allows customers to enter theaters by flashing their smartphones as well as helping cinemas schedule movies by using big data analysis.
Big data is a broad term for processing vast amounts of complex statistics, which can be boiled down into market and consumer trends.
"Our years of experience in the movie sector, coupled with Alibaba's technological prowess, can help theaters deal with larger traffic and boost their efficiency," Li Xiangxiong, general manager of Yueke, said.
Alibaba bought the company for 830 million yuan ($134 million) in June and Yueke provides software support to more than 1,500 of the 5,780 cinemas in China. Still, this is just the latest move by the major Internet players to cash in on the thriving film industry in China.
The big three, Alibaba, Tencent Holdings Ltd and Baidu Inc, have already managed to attract half of the country's movie-goers to buy tickets online.
"For Internet companies, cinemas are the ultimate gateway to link customers with other online services," Huang Guofeng, a movie analyst at the information technology consultancy Analysys International in Beijing, said.
"They want to turn cinemas' VIP members into loyal users of their websites. For the movie sector, teaming up with tech companies can affect traffic and boost efficiency."
As of Sunday, box office receipts in China were 35 billion yuan for this year-topping the 29.6 billion yuan for the whole of 2014.
After decades of explosive growth, the country is now the world's second-largest cinema market, next only to the United States. Yet, despite the figures, more than 70 percent of China's cinemas are in the red, according to Analysys International.
A breakdown of the numbers illustrates the problem.
Data from entertainment market research company EntGroup Inc showed that in the first half of this year, China's top 500 cinemas accounted for 42.8 percent of China's 20-billion-yuan box office receipts. That left more than 5,000 theaters scrambling for the remaining 57.2 percent.
"Cinemas over-rely on box office as a major revenue source. It has a low profit margin of between 10 percent and 20 percent," Wei Huan, a movie researcher at EntGroup, said. "They need to boost sales of movie merchandising, which has a profit margin as high as 30 percent. This is exactly why Internet giants are moving into the sector."
Alibaba's new system, for instance, can help cinemas sell products targeted at moviegoers through big data. But it remains to be seen if this model will take off across China.
"Alibaba's system is more like a unilateral effort. It is OK to improve user experience. But I think it needs input from theaters, film distributors and industry regulators to work out a joint solution," Cao Yong, deputy manager of Beijing UME International Cineplex's Anzhen branch, said.