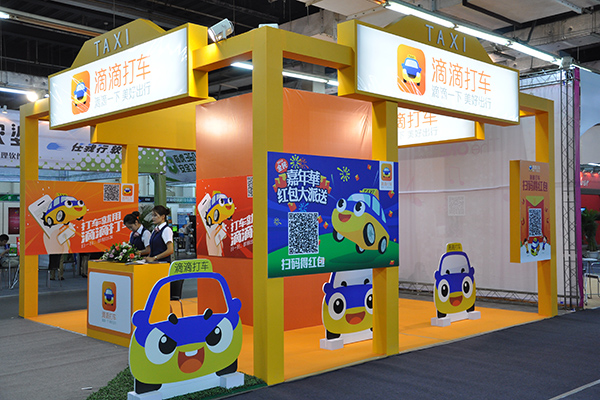 Didi Kuaidi's booth at an international smartphone show in Shenyang, capital city of Liaoning province. The company is going to launch an app in mid-August to help corporate and government users cut costs on transportation. [Photo/China Daily]
Didi Kuaidi, China's largest car-hailing service provider, is driving its business in a new direction with plans to launch a separate service targeting corporate and government users.
Du Jincheng, vice-president of the Beijing-based company, told China Daily it expects to launch the new app by mid-August with the aim of cutting transport costs for businesses and the public sector.
"The market is estimated to be worth at least 100 billion yuan ($16.11 billion), especially in light of the central government's policy of auctioning off its official cars in China," said Du.
The National Government Offices Administration said in January that as many as 3,184 official cars, used to be owned by central government institutions, are going to be auctioned.
All local governments are asked to complete the reform on their official cars by the end of the year.
There are no statistics about how many official cars will be claimed redundant, but an estimated 150 billion yuan to 200 billion yuan are spent on these official cars in China every year.
The launch is in response to an increasing number of requests to tailor-make a convenient and economical service for corporate and government users, said Du.
Several cities in Jiangxi and Zhejiang provinces are now discussing detailed cooperation plans with Didi Kuaidi, as governments there continue to seek more economical ways of managing their transportation budgets.
Du said the company is likely to add features to make the app's management more transparent, including ways of monitoring spending online.
It is even considering the possibility of setting up online accounts for each individual civil servant, so all of their car use information, including fees, the type of cars they use, and what routes they take, can be monitored closely.
At the end of March, Didi Kuaidi claimed it had more than 100 million users in China.