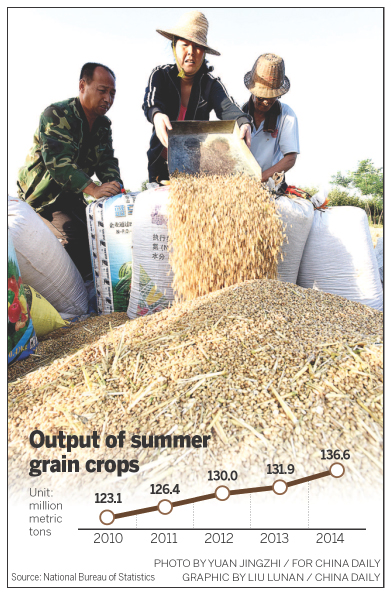 The nation's grain security and import quota will not be affected by the El Nino phenomenon, thanks to its high staple grain inventory and stable summer crop output, experts said on Tuesday.
El Nino-a warming of the surface temperature in the Pacific Ocean that affects wind patterns-has brought more rain to the south of the country, increasing the chances of floods and small rivers overflowing.
The China Meteorological Administration said earlier this month it is expecting a moderate El Nino to affect the country this year, which could cause heavy rain in the south and drought in the north.
Li Guoxiang, deputy director of the Rural Development Institute at the Chinese Academy of Social Sciences in Beijing, noted that China had completed the harvest of summer crops this month.
The total area of summer-crop farmland, which mainly yields wheat and early season rice, reached 21.67 million hectares this year, up 66,670 hectares from last year, according to the Ministry of Agriculture.
In Shaanxi province, the yield of summer crops could increase by 10 percent over last year thanks to favorable weather conditions and the application of agricultural technology, officials said.
The London-based International Grains Council in May raised its forecast for China's wheat output this year to 127 million metric tons, about 4 percent higher than its previous prediction made in April.
"Heavy rainfall in China's southern provinces ... has provided sufficient water for the country's rice production and there has been no evidence showing major rice-producing provinces such as Jiangxi, Anhui and Jiangsu have been affected by extreme weather or large-scale floods," said Li.
In 1998, El Nino caused the nation's worst flooding on the Yangtze in half a century. During that season, major rice-producing provinces such as Jiangxi, Hunan and Hubei lost large portions of their harvests.
The strong rain this year has only resulted in minor flooding in Anhui province, according to the province's water resources department.
El Nino has already caused drought or extremely dry weather in Australia, India, Indonesia, Thailand and the Philippines. The United States Department of Agriculture warned Southeast Asian nations to monitor food prices and raise rice import volumes to secure domestic demand.