53m hectares of high-quality farmland to be developed; exhausted land to be rejuvenated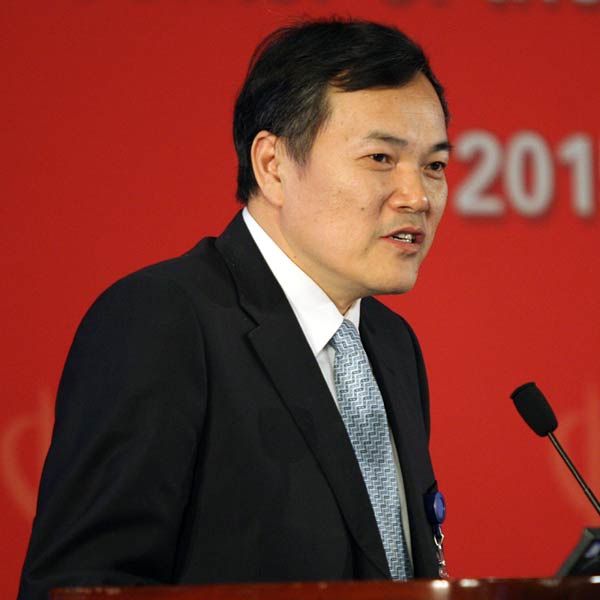 Qian Keming, chief economist at the Ministry of Agriculture. [Provided to China Daily]
China's annual grain output is expected to rise 8.2 percent to 657 million metric tons by 2020, as the nation develops large swaths of high-quality farmland to meet the soaring demand for food, said a top official.
Qian Keming, chief economist at the Ministry of Agriculture, said the demand for food is growing by 5 million tons every year, and China is planning to develop more than 53 million hectares of high-quality farmland nationwide.
The country will also rejuvenate exhausted arable land to ensure a sufficient supply against the backdrop of the nation's rapid rates of industrialization and urbanization.
"The rapid degradation of natural resources in China means that the demand for food from a growing, more urbanized and more affluent population is increasingly in competition with other sectors," Qian said.
"A further complicating factor is the uneven geographical distribution of resources nationwide," saud the chief economist at the ministry.
A study by released by the Chinese Academy of Agricultural Sciences in December showed that China's per capita arable land is just more than half the global average, approximately 0.08 hectare compared with 0.2 in other countries.
Given that most of the farmland with the optimum climate for cultivation is concentrated in the densely populated eastern regions, the accelerated industrial and urban use of productive agricultural land may threaten national food security, especially through pollution and increased competition for the available water and soil.
As a result, the nation's agricultural and investment policies will focus on the promotion of food production systems capable of meeting the challenges to food security resulting from emerging climatic, resource and nutritional factors.
Although grain output rose 0.9 percent to 607 million tons in 2014, the 11th successive annual increase, Fan Shenggen, director-general of the International Food Policy Research Institute in Washington, suggested that China should make more effective use of increasingly integrated international markets to ensure that its food supply and production are geared toward optimum exploitation of the country's natural domestic resources.
"China should support the production of high-value agricultural goods such as fruits, vegetables and aquatic products through improved labor and land productivity, while importing more land-and water-intensive agricultural products, such as cereals and vegetable oils," Fan said.
Han Jun, deputy director of the Office of the Central Rural Work Leading Group, the country's decision-making body for rural affairs, said the government will help farmers, especially smallholders and young farmers, to meet the high quality and safety standards in use in the international markets by improving access to market information, training and financial services.
"The temptation to enact distorting and destabilizing trade policies, such as raising the prices of food over a certain period, will be punished. Such activities can causes further rises in the prices of food, and, therefore, insecurity," Han said.
The Ministry of Agriculture will also provide more policy and fiscal assistance to the country's 13 main grain production regions to further ensure security of grain supplies for the next decade.
Also, pilot programs will be launched this year to restore black-soil farmland in the country's northeastern regions, improve cultivation methods in the arid northwestern provinces and autonomous regions, and design a national standard for minimum use of water in a wide range of farming activities to conserve the nation's already limited resources.