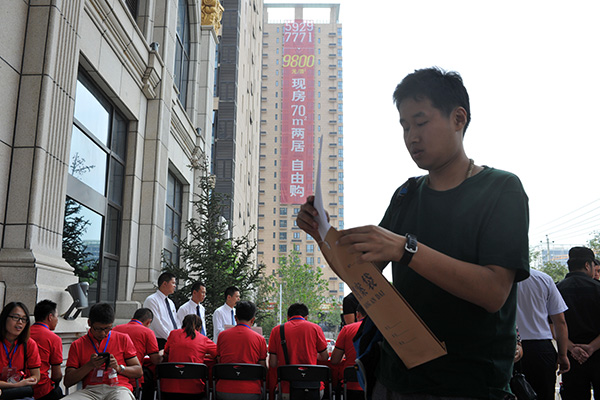 A residential project in Tongzhou district, Beijing. Oversupply will be a major factor in preventing any home price surge though it has been rumored that the city government departments will relocate to the district. [Photo/China Daily]
Speculation that the Beijing municipal government will move to a southeast satellite district has yet to give housing prices there much of a boost, with supply still outstripping underlying demand.
Rumors of a relocation have run high since late May, when a local social media account reported that the Beijing municipal government would relocate to Tongzhou district. The new site, it said, would be Lucheng, at the eastern end of Subway Line 6. That is about 33 kilometers east of Tian'anmen Square in central Beijing, where the municipal government is now based.
The rumored relocation would be part of a broad official strategy to integrate the Beijing-Tianjin-Hebei region into a megalopolis, which involves dispersing people and facilities to relieve pressure on infrastructure in the capital itself.
The Beijing government has responded by saying that "online speculation is not reliable, and the public should treat the official news release as the most authoritative source". But the absence of an outright denial merely added fuel to the speculation, especially that involving housing prices.
On Tuesday, the Beijing Academy of Social Sciences, a municipal think tank, suggested in a report that public institutions affiliated with the city government should be moved to Tongzhou.
However, on-site visits and interviews with new project salesmen and secondhand house brokers indicated that talk of a surge in apartment prices is overblown.
A new project developed by Hopson Development Holdings Ltd near the Tongzhou section of the Beijing-Hangzhou Grand Canal, which is crowded with residential projects, was reportedly raising its price significantly.
But sales agents there told China Daily that the project had just finished its "pool purchasing" period, during which apartments are sold at a promotional price of 28,000 yuan ($4,510) to 29,000 yuan per square meter. Now, prices are running from 32,000 yuan to 35,000 yuan.
Visits to other major new projects, including those developed by Greentown China Holding Ltd, Greenland Group and Guangzhou R&F Properties Co Ltd, also showed there has been no major price rise recently.
Pre-owned houses in Tongzhou have experienced moderate price rises since the beginning of this year, but China Daily could not find any cases of prices surging overnight in response to the relocation speculation. A broker with 5i5j, a major pre-owned housing broker, said the average price in central Tongzhou is about 23,000 yuan, up 10 percent from the beginning of this year.