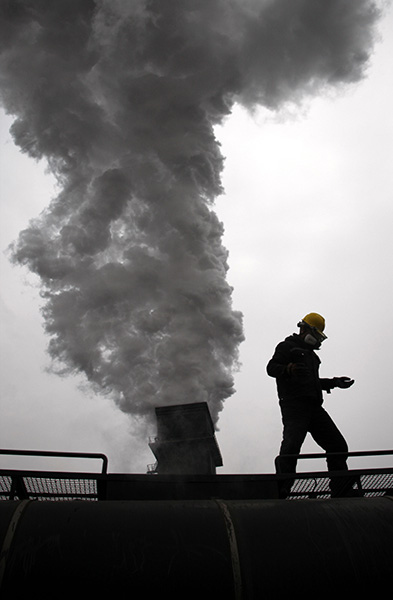 Smoke is discharged from chimneys at a plant in Huaibei city, East China's Anhui province, Jan 13, 2015. [Photo/China Daily]
The nation's greenhouse gas emissions could peak at most five years earlier than expected, the annual blue book on China's low-carbon economic development said on Thursday.
Greenhouse gas emissions are likely to peak between 2025 and 2030, according to the Global Low-carbon Economy Institute, which is a joint venture between the University of International Business and Economics and Nagoya University.
That timeframe would be earlier than the deadline set by China.
A joint announcement with the United States in November, issued during US President Barack Obama's Beijing visit, said that carbon dioxide emissions in China would peak around 2030.
Zhu Yuezhong, a co-author of the report and a researcher at the Energy Research Institute of the National Development and Reform Commission, said the greenhouse gas peak would likely occur between 2025 and 2030, mostly likely 2027 or 2028. But he warned that the conclusion was a hypothesis based on many assumptions.
The actual date would depend on the progress of energy restructuring and the implementation of related policies by local governments. Another factor is coal consumption, which the report said would peak around 2020.
Domestic coal output fell 2.5 percent last year to 3.87 billion metric tons, while use totaled 3.51 billion tons, down from 3.61 billion tons in 2013.
Analysts have forecast that coal consumption will continue to fall as the economic "new normal" of slower but more sustainable growth persists, along with a shift to services, away from manufacturing, and greater use of efficient technology.
China aims to cut its coal use to below 65 percent of total energy use by 2017. In particular, it wants to reduce consumption of the fuel in key regions where air pollution is heavy, such as Beijing and the Yangtze and Pearl river deltas.
But whether coal consumption will keep falling is uncertain, especially as downward economic pressure intensifies, said Zhu.
"Many regions face great pressure to maintain steady growth, and investment-driven, energy-guzzling projects are still attractive to them," he said.
Leaders of the Group of Seven pledged on Monday to phase out fossil fuel by the end of this century, a move that injected new momentum into global efforts to reach a climate deal in Paris by the end of this year.
Zhang Yong, vice-chairman of the NDRC, said last month that China will submit its proposals for cutting greenhouse gas emissions to the UN by the end of June.
Those targets are known as Intended Nationally Determined Contributions, and they describe what post-2020 climate actions countries will take under a new international agreement.
More than 190 countries are expected to reach an agreement in Paris to limit the global temperature increase.
If China can take definite steps to cope with climate change after its coal consumption peaks, the country is likely to reach peak energy consumption around 2035, said the report.
Zhao Zhongxiu, vice-president of the University of International Business and Economics, said China should highlight environmental protection and green development when it promotes the Belt and Road Initiative and leave its old growth mode behind.