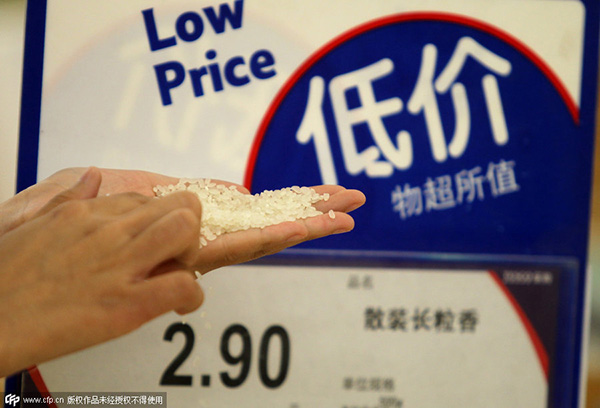 Consumers shop in a supermarket in Nantong city, East China's Jiang province, Oct 5, 2012. [Photo/CFP]
Shopping for food has become a tricky business.
Not only do we have to find what we want in larger outlets, packed with ever-busier aisles, we also have to negotiate what can at times be a minefield of product labels, which tell us exactly what's in the food, and also maybe more importantly, what's not.
There's "green food", "organic food", "non-GMO" food, "agro-product geological indication", "safety food", those with "no food additives", "no antibiotic residues", "no pesticide residues", "no edible pigments"...
Do any of these labels make sense to you? They certainly don't to me.
And it becomes no-less complicated if there are no labels at all.
As one of my friends, Liu Yuqi, said to me recently, "If a food product is not tagged with these labels, should we buy it or not?"
His solution is to "buy expensive".
Every time he wants to buy eggs for his child, for instance, he chooses the priciest on the shelf, because the more expensive the product is, the better quality it will be, he says.
But interestingly, when he's buying something to eat for himself, he just ignores all the labels altogether.
One thing I am sure about, is that this increased use of labeling reflects the government's efforts to improve food quality and safety.
Many of the labels used by manufacturers have been awarded or approved by central or local government departments, after ever-more stringent quality inspections.
The State Administration for Industry and Commerce insists that quality assurance labeling helps customers make the right choices.
Take bottled cooking oil for example.
A "non-GMO" label means the product is made using non-genetically modified organisms.
But other labels such as "green food", "no pesticide residues" and "no food additives" simply complicate the consumer's choice-I think the system has got out of control.
Consumers should not have to bother to check labels one by one to see if they are real or fake, packed with additives or not.