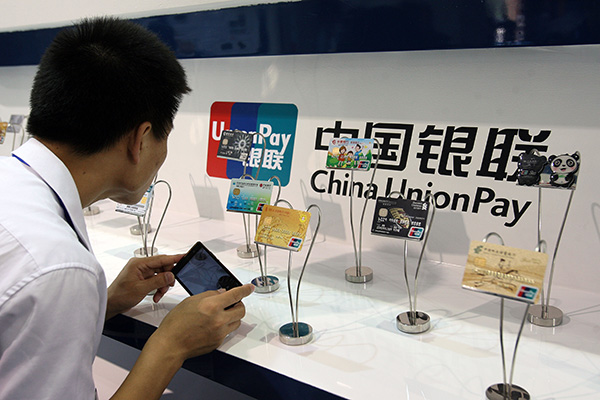 A visitor examines China UnionPay cards at an exhibition in Beijing. UnionPay International said its global strategy has two facets, one for developing economies and the other for mature economies. [Photo/China Daily]
China UnionPay aims to become a global bank card company, Ge Huayong, chairman of China UnionPay and UnionPay International, said on Wednesday.
Ge made the remarks after a speech at the Shanghai City Campaign Forum of the Milan Expo, where he briefed an audience of about 200 industry experts on the growth history and functions of China UnionPay. He also signed an agreement with Cartasi SpA, an Italian credit card issuer.
Ge said that the agreement is an example of China UnionPay's international development strategy, expanding the card company's customer base through partnerships with local companies in Europe, and in the process recruiting new European customers.
China UnionPay was founded in 2002 with a view to enable interbank payment transactions in China. The company began to expand overseas in 2004, which later led to the founding of its international brand, UnionPay International.
UnionPay International now has partnerships with more than 300 institutions worldwide and its global network covers more than 150 countries and regions. There are about 5 billion UnionPay cards in use.
One key international market for UnionPay is South Korea, where one in five people has a UnionPay card. In Pakistan and Laos, UnionPay cards have been issued to customers for many years and have now become the most recognized payment card locally. In the United States, more than 90 percent of automated teller machines and more than 80 percent of retailers accept UnionPay cards.
These achievements did not come easily, considering that UnionPay International is up against fierce competition from other global payment card companies like Visa and Mastercard, Ge said.
"UnionPay International is not a truly international payment card company because overseas transactions account for only about 2 to 3 percent of its overall transactions, but we have an advantage in expansion as China's economy grows rapidly," Ge said.
UnionPay International's global strategy has two facets, one for developing economies and the other for mature economies, according to Ge.
In developing economies where the payment infrastructure is still being established, UnionPay International will help its partners develop an infrastructure. After the infrastructure is established, UnionPay International can easily be used within that infrastructure.
One successful example of this approach is Thailand, and UnionPay International is establishing additional partnerships with other emerging economies, Ge said. "It is similar to helping a partner country build up a motorway, because after it has been built, our cars can very easily be driven on it, so we can export more cars."
The second model of cooperation takes place in mature Western economies, where Visa and Mastercard dominate the market. UnionPay International enters such markets by first serving Chinese customers who travel abroad. For example, it works with retailers to install UnionPay terminals in their shops, which attracts Chinese visitors. In 2011, luxury hotel Ritz became the first hotel in London to install UnionPay terminals, followed by many other hotels and luxury shops.
Many Western banks have also joined with UnionPay International, allowing UnionPay card holders to withdraw cash from their ATMs, and some Western banks are starting to issue UnionPay cards to their customers.
So far, most of the UnionPay cards issued in Europe are still from Chinese banks, serving the Chinese community. In March, Garanti Bank, the largest bank in Turkey, started to issue UnionPay cards.
Ge said that his team is discussing such arrangements with many more banks, including the Italian bank UniCredit Group, and held a meeting with them during his visit to Italy this month. "Such partnerships are beneficial for the Italian banks as well because they help enlarge their customer base. We are building win-win relationships," Ge said.