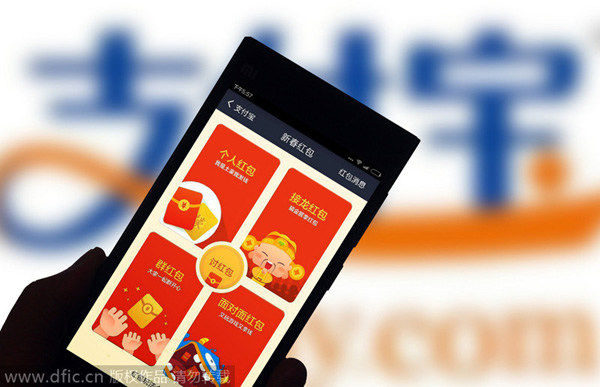 Photo shows the Alipay's red envelope in a smartphone. [Photo/IC]
Alipay Wallet, the mobile payment application backed by Alibaba Group Holding Ltd, has added an extra 12 million yuan ($1.92 million) to online red envelopes after complaints from users.
Many said it was almost impossible to get hold of a red envelope after the company kicked off its campaign at 10 am Wednesday with cash incentives as well as online shopping coupons.
Alipay didn't reveal how much it had invested in the initial event saying only that millions of users were successful in securing red envelopes.
Chinese people traditionally gift red envelopes filled with money during Spring Festival.
The company said it would offer further cash filled envelopes, with a total value of 25 million yuan, at 4 pm to apologize to users who failed to get anything in the morning. However, it warned that due to the anticipated huge number of users, it would be very difficult to please everyone.
The red envelope campaign, which began during last year's Spring Festival with Tencent's widely used messaging app WeChat, has proved a huge success in terms of generating new users of mobile payment services.
This year many domestic Internet companies have followed in WeChat's footsteps.
A total investment of more than 7 billion yuan is estimated to be put in this year's campaign by Internet firms.
Related story: 'Battlefield' for mobile payments is shifting overseas, by Meng Jing, China Daily
The competition to capture new users of mobile payment services during the upcoming Spring Festival has intensified among China's Internet companies as Alipay, the e-payment affiliate of Alibaba Group Holding Ltd, expanded the battlefield to overseas markets.
Alipay announced on Tuesday that it will offer discounts if up to 50 percent to its overseas mobile payment users during the festival, a seven-day holiday that begins on Feb 18.