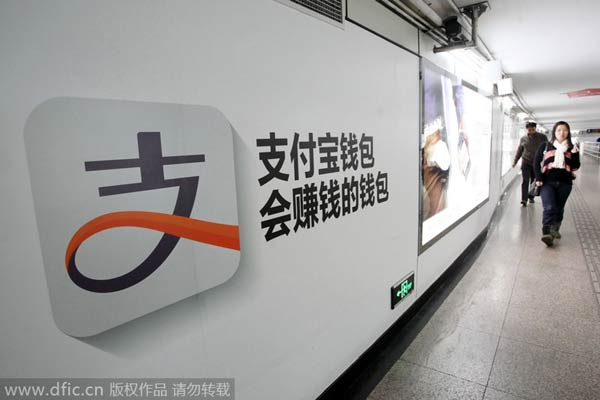 Passengers walk past an advertisement for Alipay at a metro station in Shanghai, Dec 4, 2013. [Photo/IC]
Alipay, China's largest online payments provider, stepped up its expansion in the overseas travel sector by launching a service on Monday to make it easier for Chinese tourists to use mass transit in three Asian destinations.
The service, named Alipay Overseas Transportation Card, allows users to purchase public transportation passes in Singapore, Thailand and Macao in yuan via Alipay Wallet, Alipay's mobile application with about 180 million active users, before they leave the Chinese mainland.
When travelers arrive at their destination airports, they can collect the transport passes at designated booths by scanning a barcode on their mobile phone. Unused credit on the cards can be refunded to the Alipay accounts when they return the physical cards on the way back.
Alipay is expected to roll out the service for Chinese visitors to South Korea very soon. Sabrina Peng, head of Alipay International, said the company is working to expand the service in places popular with Chinese outbound travelers.
"Hong Kong and destinations in Southeast Asia are among our top priorities in terms of expanding the service," she said.
With the growing popularity of near field communications-capable smartphones, Alipay users can soon expect to use their phones as transit passes when they travel abroad, she said.
Peng told a news conference in Beijing that an increasing number of Chinese outbound tourists enjoy traveling independently rather than with groups, which means they need to arrange their transportation overseas on their own.
"The convenience of our users is of paramount importance to us, and we hope to be a useful travel partner to them as they explore the world."
This is the second travel-related service Alipay has launched this year.
In June, Alipay teamed up with Switzerland-based tax-refund company Global Blue to launch a service that enables Chinese tourists to get tax refunds for overseas purchases paid directly into their Alipay accounts in yuan.
Wang Tingting, an analyst with Internet consultancy iResearch, said that transportation is a major concern for outbound Chinese tourists because of language barriers and unfamiliarity with pricing structures.
"I think the service can help Alipay increase its user loyalty and even gain some new users as it continues to move its business to overseas territories," said Wang.
He said that Chinese were the biggest-spending travelers last year, collectively splashing out $128.6 billion abroad.
"My guess is that Alipay will only use this service to test the water in the overseas travel market. It may work with overseas partners to allow Chinese nationals to pay with Alipay Wallet when shopping and dining in other countries and regions," he said, adding it could be a huge market as about 100 million Chinese are expected travel abroad this year.
Wang Yang, a Beijing-based white-collar worker who travels to Hong Kong occasionally, said she looks forward to Alipay launching the service in Hong Kong.
"It is very difficult to get a refund for unused credit on the Octopus Card, Hong Kong's public transportation card. If you use the card for less than one month, they will charge extra when you return the card. It would be perfect if I could simply wipe my cellphone when using public transport in Hong Kong without the fuss of getting and returning a card," she said.