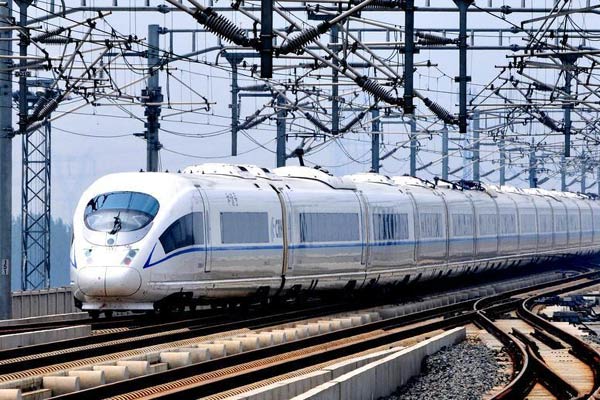 A CRH train that runs on the Beijing-Shanghai High-Speed Railway leaves Tianjin South Railway Station in North China's Tianjin, June 30, 2012. [Photo/Xinhua]
China is in talks with 28 countries including the United States, Russia and Brazil about high-speed rail projects, state-backed trainmaker China CNR said on Wednesday.
The company, which said it was one of the participants in the country's high-speed rail push, made the comments during a government-organised visit to one of its factories in Tangshan city in North China.
CNR said its overseas sales amounted to $3 billion last year, up 68.6 percent from the previous year, and that its equipment has been sold to 84 countries and regions.
Related Story:
Train-makers set for sales boost abroad by Zhong Nan from China Daily
Rail equipment companies given backing to widen their global services and production
China is to take new measures to help its train-makers expand sales channels globally, government officials said on Thursday.
The support comes after the country saw the fastest growth in rail equipment exports and railway infrastructure projects in overseas markets last year.
Zhi Luxun, deputy director-general of the Department of Foreign Trade at the Ministry of Commerce, said China will quicken the pace of promoting its railway standards abroad.
It will also support rail equipment makers in widening their global services and production networks to compete with more established rivals in different regional markets.
To date, China has exported its railway technology to more than 30 countries and regions, including member countries of the Association of Southeast Asian Nations, Argentina, Australia and the United States.