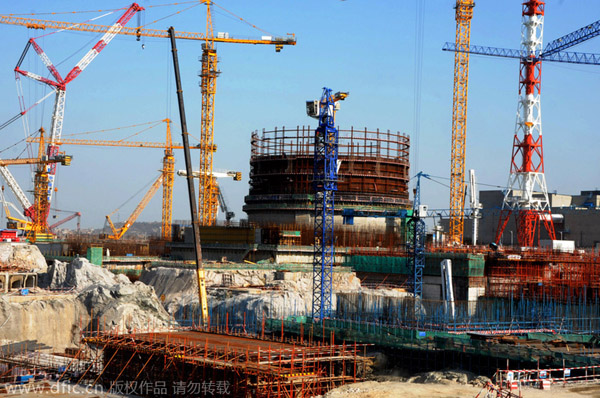 A nuclear power station expansion project in Jiangsu province. While China has some of the world's largest nuclear power stations, more efforts are needed in technological innovation. [Photo/IC]
The approved merger of China's two industrial giants in the nuclear power field will strengthen the country's industrial competitiveness when going abroad, experts said.
Jiang Kejun, a researcher from the energy research institute of the National Development and Reform Commission, told China Intellectual Property News that the merger between State Nuclear Power Technology Corp and China Power Investment Corp "could enhance the capability in intellectual property innovation and utilization, and add a more competitive edge in international markets".
"As one of the biggest nuclear power companies in China, we have strong research and innovation capabilities, as well as the world's most advanced home-made facility units and related technologies," said Fan Jihong, research department director of State Nuclear Power.
He said going abroad was necessary for nuclear power companies but the process needs to be supported by strong IP strength. He added that the merger laid solid foundations for them to compete internationally.
"The merger of the two companies results in expansion in size and scale, but what is more important is to make up for each other's shortcomings," said Lu Qizhou, general manager of China Power Investment.
He said State Nuclear Power had strong innovation capabilities but was weak in developing markets, while China Power Investment has experience tapping into new markets.
Jiang said countries around the world consider nuclear power a core in developing new energies due to its safe, clean, low-carbon and efficient characteristics.
According to the International Atomic Energy Agency, the world's nuclear power generation capacity will increase at least 40 percent by 2030.
Although China has some of the world's largest nuclear power stations more efforts are needed to innovate technologies, he said.
There are more than 430 reactors in service in the world, with a combined nuclear power generation capacity of 378 million kilowatts, according to a report from China Intellectual Property News.
The United States has 104 nuclear power plants, the most in the world, while the European Union has a total of 158 plants. The two also lead the world in core technologies and the number of patents in the industry.
Russia has 31 nuclear power plans, Japan has 55 plants and India has 20.