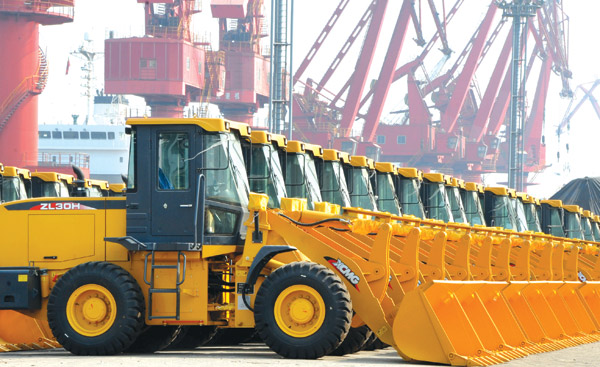 Excavators made by the Chinese machinery maker XCMG Group are ready to be shipped to Port Vitoria in Brazil. [Wang Chun / For China Daily]
BEIJING - China's machinery industry continued to expand in 2014 but at a softer pace due to sluggish domestic demands and piling inventories, new data showed on Wednesday.
The added value of the sector increased 10 percent year on year in the last year, slightly down from 10.9 percent in 2013, data from the China Machinery Industry Federation (CMIF) said.
Chinese machinery enterprises posted combined revenues from main businesses at 22.2 trillion yuan ($3.62 trillion), up 9.4 percent from a year ago. The revenues grew 13.8 percent in 2013.
Aggregate profits gained 10.6 percent year on year in 2014, sharply down from 15.6 percent the previous year, the data showed.
The lackluster performance is attributable to unchanged overcapacity in the domestic market as demand remained sluggish and inventories kept piling up, said Chen Bin, executive vice president of the CMIF.
China's machine industry grew at an annual rate of more than 25 percent in the decade from 2001, when the country's economic engine maintained strong momentum. But the profitable sector has begun to suffer from serious overcapacity since 2011, weighed on by an overall economic slowdown.
However, machinery exports proved surprisingly strong last year, the trade surplus hitting a record high.
Both exports and imports registered more than 8-percent year-on-year growth and the trade surplus extended to $79.1 billion, outpacing the disappointing foreign trade shown by data published by customs authorities on Sunday.
The surplus accounted for over 20 percent of the country's total trade surplus in 2014, the CMIF data showed.
The saturated market at home has compelled manufacturers to increase their presence abroad, a strategy proving to be effective and also an encouraging sign for improving Chinese merchandise, said Cai Weici, senior CMIF consultant.
The surging trade also stemmed from private enterprises which saw a trade surplus of nearly $100 billion, offsetting deficit from foreign-funded companies and dwarfing the small surplus of state-owned enterprises.
Cai said private manufacturers would be a major driving force for the sector in the future.
Nevertheless, Chen Bin said China's machinery industry, still plagued by overcapacity, will probably continue to slow as downward economic pressures, trade uncertainties and rising costs will remain major challenges.
He said the sector should continue restructuring to ride out the difficulties, citing innovation in high-end equipment especially.