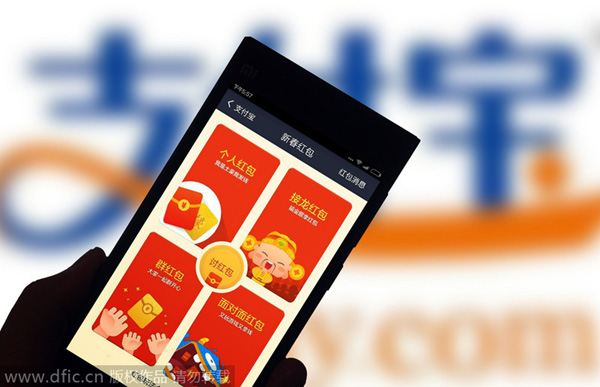 Photo shows the Alipay's red envelope in a smartphone. [Photo/IC]
The competition to capture new users of mobile payment services during the upcoming Spring Festival has intensified among China's Internet companies as Alipay, the e-payment affiliate of Alibaba Group Holding Ltd, expanded the battlefield to overseas markets.
Alipay announced on Tuesday that it will offer discounts if up to 50 percent to its overseas mobile payment users during the festival, a seven-day holiday that begins on Feb 18.
The plan to ride China's outbound travel wave is Alipay's latest move against its chief rival, Tencent Holdings Ltd, in the competition to send cash-filled red envelopes online.
The red envelope campaign, which began during last year's Spring Festival with Tencent's widely used messaging app WeChat, has proven to be a huge success in terms of generating new users of mobile payment services.
Many domestic Internet companies, from Alipay to Weibo Corp to Momo Inc, have followed in WeChat's footsteps.
WeChat and QQ said earlier this month they will offer red envelopes valued at 3 billion yuan during the festival.
Internet companies are spending more than 7 billion yuan ($1.12 billion) in this year's campaign, according to estimates by Alipay.
Apart from offering 600 million yuan worth of red envelopes, including cash-filled envelopes and envelopes with online shopping coupons, Alipay said it will offer up to 50 percent discounts for those who shop in its brick-and-mortar partners' outlets in South Korea, Thailand and Singapore during the Spring Festival.
Up to 200,000 shops, supermarkets and restaurants in those destinations will participate in Alipay's campaign, according to the company's statement on Tuesday.
Wang Weidong, an analyst with iResearch Consulting Group, said that by involving overseas shops and vendors, Alipay can leverage its resources in shopping and avoid competing directly with Tencent.
"Tencent has built its empire on social networking tools such as WeChat and QQ. It is very difficult for Alipay to compete with Tencent in the red envelope campaign, because the whole scheme is a social game, encouraging people to send and share red envelopes with their online friends," said Wang.
Alipay has no advantages in social media, compared with WeChat, which claims a monthly active user base of more than 450 million, said analysts.