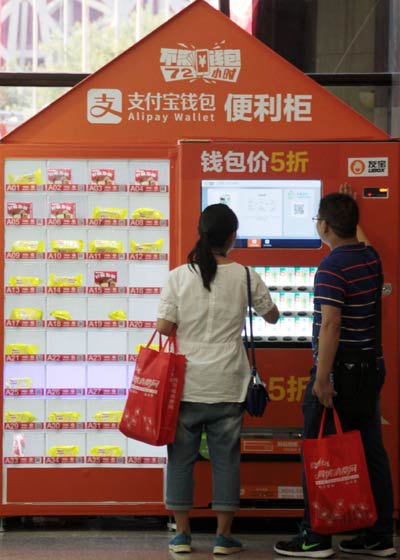 Visitors to an Internet conference, held in Beijng in August, use Alipay Wallet to pay for their shopping. Alipay rolled out the latest version of its mobile application on Tuesday. WU CHANGQING/CHINA DAILY
Alipay, the e-payment arm of China's e-commerce giant Alibaba Group Holding Ltd, rolled out on Tuesday the latest version of its mobile application, which allows iPhone users to make mobile payments with fingerprints rather than passwords.
Analysts said that the move is not only a win-win cooperation for both Alipay and iPhone, but also an indicator of a potential alliance between Alipay, China's largest e-payment solution provider, and Apple Pay, the mobile payment service of tech giant Apple Inc.
According to a release issued by Alipay, users of iPhone 5S, iPhone 6 and iPhone 6 Plus will be able to activate their fingerprint payment function as soon as they upgrade the Alipay Wallet app to version 8.4.
Biometric technology such as fingerprint or retina recognition is regarded as a more secure and convenient method of identity authentication. "Compared with traditional codes, fingerprints are one of a kind and are not easy to copy. It also effectively improves the security of transactions and reduces the risk of password leaks," the statement said.
Alipay, which has more than 300 million users in China, said it is working on other biometric technologies, which can make it possible for people to confirm payments for a wide variety of goods and services by winking or simply by showing their faces in the near future.
The fingerprint payment feature is the first real progress between Alibaba and Apple after both of their leaders Jack Ma and Tim Cook publicly discussed the possibility of combining the Alipay and Apple Pay services.
Alipay is predominantly used in China. But because Alibaba is tailoring the app for the iPhone, which is used around the world, it allows users to pay for goods on their iPhone using the Alipay app, which can help boost Alipay's presence overseas, said Neil Flynn, head equity analyst at Shanghai-based Chineseinvestors.com, a leading financial analysis firm of US-listed Chinese companies.
"On the other hand, despite its popularity, iPhone faces strong rivalry from both Samsung and China's domestic manufacturers such as Xiaomi. By teaming up with Alipay, the iPhone is now a more convenient tool for Chinese consumers. In addition, I would imagine that Apple would profit from payments made through Alipay on the iPhone, so it gives Apple access to Chinese consumers," said Flynn, who has been following Alibaba's development for several years.
The Shanghai-based Flynn expects to see further collaboration between Alipay and Apple Pay, which would likely benefit Chinese consumers shopping on US shopping sites. Alipay would gain access to Apple Pay's US payment network, which would make payments easier for Chinese consumers, he said.
Apple Pay, which was unveiled by Apple in October, has not gained a license to offer digital wallet-like services in China.
Wang Weidong, a third-party payment analyst with iResearch Group, said: "Teaming up with Alipay gives Apple Pay an option to operate in China. It is possible when people use Apple Pay on iPhones, Alipay could provide back-end service, so that the money they use comes from their Alipay accounts."