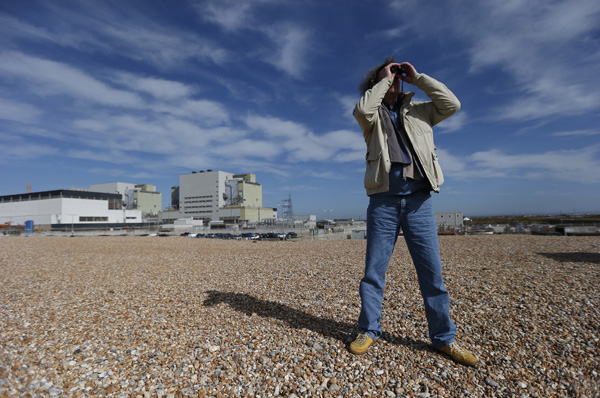 An ornithologist uses binoculars to watch migrating seabirds by Dungeness nuclear power station in Kent, England. Chinese companies, including China General Nuclear Power Group, have been given the green light to invest in the British nuclear industry. [Photo/Agencies]
Wrinkles in infrastructure sector investment need to be ironed out
Significant challenges still exist for Chinese investment into the United Kingdom's infrastructure sector, according to Richard Laudy, head of infrastructure at international law firm Pinsent Masons.
The challenges relate to both Chinese companies' understanding of the UK bidding process and the UK government's long-term funding commitment to infrastructure projects which would guarantee Chinese investors' returns on investment, Laudy said.
Laudy was commenting on a new report by Pinsent Masons and the UK-based Centre for Economics and Business Research earlier this week, which showed that China is set to invest 105 billion pounds ($170 billion) in UK infrastructure by 2025 across sectors including energy, property and transport.
The potential Chinese investments relate to a yawning gap between the UK's current infrastructure needs and the amount of investment the government has planned for the country.
The National Infrastructure Plan drawn up by the UK government identified close to 400 billion pounds of investments that need to be made through to 2020, but the report has identified real infrastructure needs to be closer to 500 billion pounds.
Laudy said the challenge of regulatory complexity relates to the fact that bidding companies have to supply a large amount of information in a timely manner, and in a structured format, to satisfy the needs of the UK infrastructure procurement process.
"The challenge is understanding how the process works. Challenges range from labor market regulations, to the planning process and how to operate within the framework of EU regulations," Laudy said.
In addition, the UK's infrastructure projects are mainly bid competitively, meaning each company or consortium submits a separate application.
This is very different from other markets that take applications on a single tender basis, meaning Chinese investors can directly negotiate with a respective foreign government about the contract, he said.
In this respect, it is helpful for Chinese companies to master the skills needed to navigate within the UK regulatory framework by bidding for projects in partnership with UK or European companies that are more familiar with the process, Laudy said.
Another challenge for new infrastructure projects is how projects will be funded in the long term, as Chinese investors need to be assured of returns on their investments.
Laudy said there is no simple answer to the UK's long-term funding needs, and the fact its economy is just coming out of a recession makes it hard for the government to commit toward this funding.
"I don't think the UK government has the funding available because it is paying back the deficit. If long-term funding for infrastructure projects is not committed by the government, the UK may attract less foreign investment," he said.