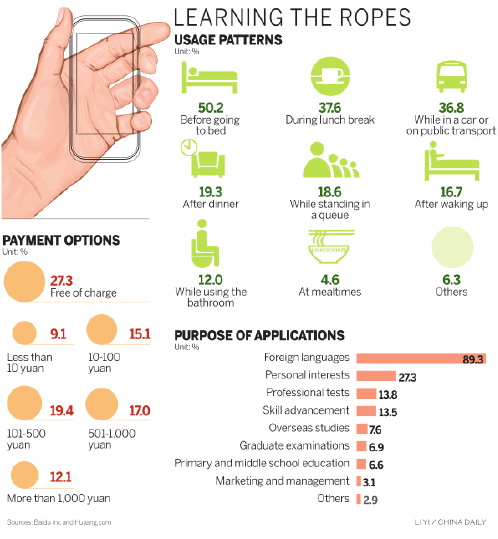 There has been a surge in the use of foreign language apps accessed by smartphones, according to a survey, with women in particular keen to be taught via their handset.
The study, carried out jointly by the country's leading Internet education provider Hujiang.com and the online education platform of Baidu Inc, shows the most popular customers are the female, college students or white-collar workers, under the age of 30-a profile which accounted for 80 percent of users of the services.
In a sizeable snapshot of 25,000 users of Internet-based education products, 58.4 percent were women.
"The young people are generally keen to improve themselves through multiple ways and resources," said Dong Xiaoliang, director of mobile business department of Hujiang.
Some 44.7 percent of mobile education users were based in second-tier cities, 26.5 percent came from first-tier cities, and nearly 30 percent subscribed from third- and fourth-tier cities.
The survey found that laptop or computer-based online education was prevalent in cities throughout the country and included a wider cross-section of society, said Dong.
"Compared with other areas, first-tier cities on the whole have more abundant educational resources available, both online and offline.
"Resources in second-, third- or fourth-tier cities are accessed from more sources."
Foreign language studies were by far the most popular type of course, with a dominant 89.3 percent of respondents, followed by those accessing courses in lifestyle and hobbies (13.8 percent), and career certification and examination (13.5 percent).
The report also revealed many were not deterred by cost, with nearly one-third of those surveyed saying they would happily spend 500 yuan ($82) or above, while 27.3 percent chose free offerings.
"In recent years people have got into the habit of making more payments for using their smartphones, helped by the increasing popularity of e-commerce apps," Dong said.
About half of those surveyed said they used their educational apps before they went to bed, with 38.8 percent gaining access to their course riding in an automobile and 37.6 percent during their lunch break.