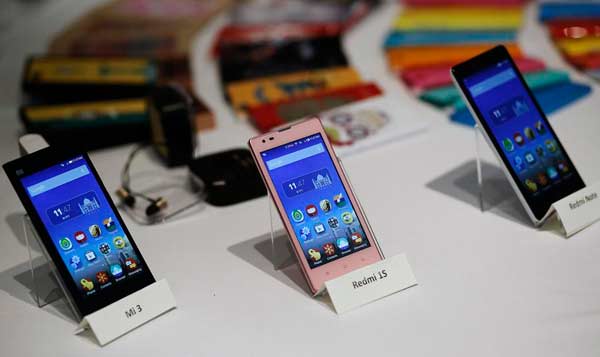 Three models of China's Xiaomi Mi phones are pictured during their launch in New Delhi in this July 15, 2014 file photo. [Photo/Agencies]
Xiaomi Corp became the world's third-largest smartphone vendor after outselling rivals in its home market of China with inexpensive devices packed with high-end features.
Xiaomi had 5.6 percent of the global market in the third quarter, the first time it cracked the world's top three, Strategy Analytics said in an emailed statement on Thursday.
South Korea-based Samsung Electronics Co remained the largest, followed by Apple Inc.
Founder Lei Jun is expanding the Beijing-based company internationally by starting sales in India and Singapore as he targets 10 new markets. Xiaomi, which makes devices using a customized version of Google Inc's Android operating system, keeps costs down by selling directly to consumers online.
It has set a goal of boosting sales fivefold to 100 million phones next year.
"Xiaomi was the star performer in the quarter," said Neil Mawston, executive director of Strategy Analytics. "Xiaomi's Android smartphone models are wildly popular in the Chinese market. Xiaomi's next step is to target the international market."
Samsung's share of the global market fell to 24.7 percent from 35 percent a year earlier. Apple dropped to 12.3 percent from 13.4 percent, Strategy Analytics said.
The global top five was rounded out by South Korea-based LG Electronics Inc, with 5.2 percent, and China-based Huawei Technologies Co with 5.1 percent, Strategy Analytics said.
The tight competition in smartphones was reflected by a second set of rankings released on Thursday by International Data Corp that produced a different set of results.
IDC shows Samsung leading with 23.8 percent, followed by Apple with 12 percent; Xiaomi with 5.3 percent, China's Lenovo Group Ltd with 5.2 percent and LG with 5.1 percent.
With such intense competition, profiting from smartphone growth becomes the issue for almost all vendors, said Ryan Reith, who tracks the mobile phone business at IDC. "The challenge has now become how to make money on devices that are quickly becoming commodity products," Reith said. "Outside of Apple, many are struggling to do this."
Founded in 2010 as a company to make software for mobile devices running the Android OS, Xiaomi introduced its first smartphone only in 2011.