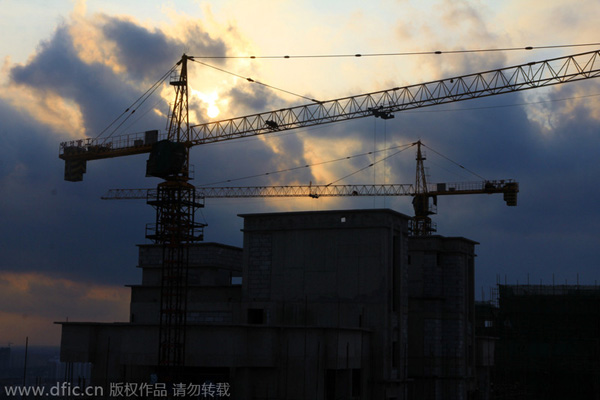 Photo taken on Oct 20, 2011 shows a construction site in Rizhao city, East China's Shandong province. [Photo/IC]
China property prices could fall as much as 10 percent this year and the slump may extend into next year, according to the founder of the country's biggest real estate information website.
Vincent Mo, founder and chairman of SouFun Holdings Ltd, said Chinese property prices are "seeing an adjustment after the rapid increase in the past two years" but added they "should stabilize by the middle of next year".
China's new-home prices fell in all but one city monitored by the government last month from August, the most since January 2011 when the way the data are compiled changed, as an easing of property curbs failed to stem a market downturn amid tight credit.
Home sales slumped 11 percent in the first nine months, prompting the central bank to ease mortgage restrictions on Sept 30.
All but five of the 46 cities that had imposed limits on home ownership since 2010 have now removed or relaxed restrictions amid the property downturn that has dented local revenues from land sales.
New central bank rules give homeowners who have paid off their mortgages and want a second property the same advantages as first-time buyers, including a 30 percent minimum down payment, down from at least 60 percent previously.
Mo said SouFun's American depositary receipts have dropped 45 percent this year. The property website, which covers more than 300 Chinese cities, is seeking to generate additional revenue from property transactions and financial services, Mo said. "Today we are a traditional Internet portal collecting listing fees.
"SouFun needs to do something new-we want to change the company from a purely Internet platform to also a transacting, and a financial-services platform."
The State Council signaled on Thursday it will support consumption in six industries including real estate development as economic growth slows.
"As long as China's economy expands, the correction will be temporary," Mo said. "The property market will probably have another hot cycle in one to two years."
Liu Shijin, vice-minister of the Development Research Center of the State Council, told the 10th Beijing International Finance Expo that he considered the market had reached a historical turning point, with demand for residential properties reaching its highest point. Liu added the market will be steady for a two-to-three-year period after which annual growth will be lower than 10 percent.