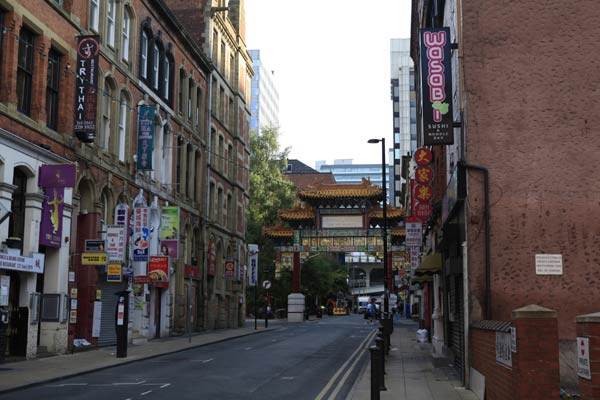 Manchester's Chinatown has many innovative Chinese restaurants offering various regional cuisines. CECILY LIU/CHINA DAILY
Manchester's Chinese presence consists of a lot more than just chopsticks and noodles
Chinese migrants to Manchester in the United Kingdom are increasingly gaining recognition and becoming an integral part of the city's identity, especially as China's growing global influence is attracting increasing interest in Chinese culture overseas.
There has been great growth in the number of innovative Chinese restaurants of various regional cuisines in Manchester's Chinatown over the years, and one can see many Chinese faces, including those of locals, students and tourists there.
To celebrate Chinese New Year this year, lanterns were hung on the streets of the CBD.
The decoration was a joint effort of Heart of Manchester Business Improvement District, the organization that represents many high-end retailers in central Manchester, and the Federation of Chinese Associations of Manchester.
"We wanted to do this project because we think Chinese culture is an integral part of Manchester, and we want to celebrate it," says Simon Binns, manager of BID.
Manchester's first Chinese restaurant, Ping Hong, opened in Mosley Street in 1948. Chinese migrants first came to the city in large numbers in the 1950s and 1960s because of severe labor shortages in the United Kingdom after World War II made immigration easier.
Many of the initial migrants came from Hong Kong, whose rapid urban sprawl was destroying many farmers' and traditional residents' homes.
Many of the Chinese immigrants initially worked in catering, laundries, Chinese medicine shops and Chinese supermarkets. This has allowed Manchester to grow into a Chinese-friendly place and in turn attracted a growing Chinese community.
The establishment of the Federation of Chinese Associations of Manchester has meant that concerns from the local residents can be effectively communicated to the local government, says its president, Stewart Yip.