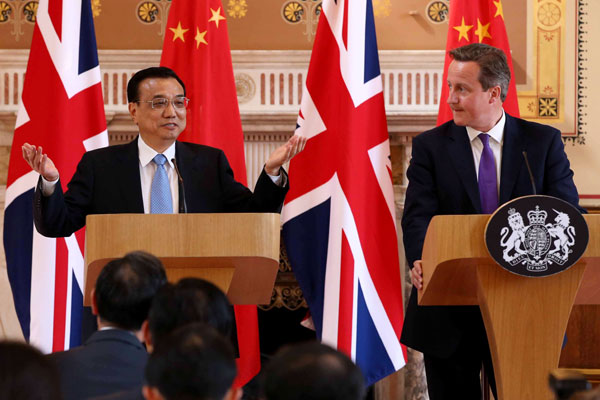 Premier Li Keqiang and British Prime Minister David Cameron meet the media on Tuesday after holding a meeting. [Photo/Xinhua]
LONDON - The economic and trade relationship between China and Britain is growing ever closer thanks to the series of cooperation deals they have just signed, visiting Chinese Premier Li Keqiang said on Tuesday.
Speaking at a gathering of Chinese and British business elite, Li told the some 600 attendants that during his official visit to Britain, the two sides inked a host of agreements on mutually beneficial cooperation.
Firstly, he said, China and Britain agreed to boost cooperation in nuclear power and high-speed rail, combining China's enormous market and advantageous equipment with Britain's advanced technology and innovative strength to realize joint creation and joint exploration of third markets.
Secondly, they agreed to beef up financial cooperation, said Li, referring to the establishment of London's first yuan clearing bank and the start of direct trading between the two countries' currencies.
That will not only consolidate London's status as an international financial hub but promote the internationalization of yuan as well as the liberalization and facilitation of trade and investment, added the premier.
Thirdly, they agreed to expand people-to-people exchanges, he said, adding that China welcomes Britain's simplification of the visa application process for Chinese visitors and hopes to host more British investors, students and tourists.
Such exchanges, he said, will further cement the public support for the development of the China-Britain relationship, which -- particularly the economic dimension of it -- is characterized by mutual benefit.
As representatives of Eastern and Western culture, civilization and wisdom, China and Britain should be partners for common growth and inclusive development and jointly work for a brighter future, said Li.
Also speaking at the event, Chancellor of the Exchequer George Osborne said China's reform and opening-up policy has cast far-reaching influence upon the world and effectively promoted the development of China-Britain relations.
Noting that Li's visit has yielded fruitful achievements, he said the establishment of an yuan clearing bank in London will remarkably rev up bilateral financial cooperation and infuse fresh vigor into China-Britain practical cooperation.
Britain, he said, stands ready to work with China to further expand bilateral trade and investment and tap into third markets.
The Chinese premier is in London for an official visit to Britain. His ongoing two-nation Europe tour will also take him to Greece.