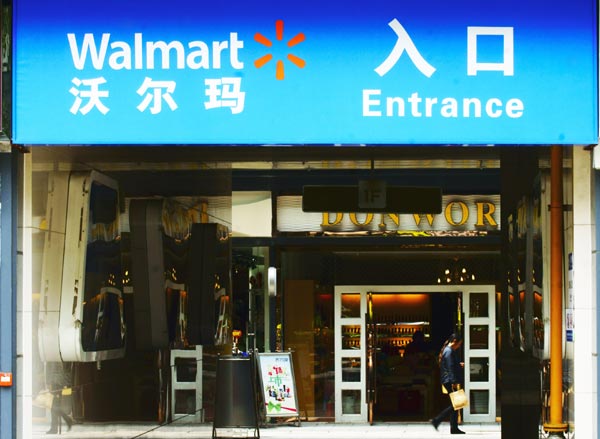 A Walmart supermarket in Yichang, Hubei province. China is likely to become the second biggest market for the retailer, after the United States. [Photo/China Daily]
Walmart China will continue to grow hypermarkets and high-end membership format Sam's Clubs in the next three years even as it further develops its home delivery and e-commerce business in the country, top company officials said on Wednesday.
Greg Foran, head of Walmart Asia and former president and CEO of Walmart China, said on Wednesday in his first media interaction after being appointed to the new role, that "China has the opportunity to become the second-biggest market for the retailer, after the United States."
"The future is also clear that we want to continue hyper-markets and Sam's clubs. We have started to understand how to use mobile channels more effectively. In the future, mobile channels will complement our stores," said Foran.
He added that Walmart has plans to further develop its home delivery services that offer free delivery within a radius of 2 km if the shopping goods purchased are more than 188 yuan ($30.17).
The retailer also plans to enhance its e-commerce business for Sam's Clubs, which since its launch has been successful.
According to Foran, distribution centers set up by Walmart in China have played a significant role in buoying market share and profitability in the country during the past three years. Instead of delivering directly from suppliers or distributors, an increasing number of items are going through centralized distribution centers to save supply chain costs and to ensure con-sumer confidence in quality and safety of goods.
"By the end of this year, every store and club in the country will be receiving regular deliveries from the 20 distribution centers," said Sean Clarke, CEO of Walmart China and former chief operating officer in the country.
"It is not just about building a network. It is how we use it. By the end of this year, 85 per-cent of the non-fresh items and 50 percent of fresh items in our stores will be delivered through our network. No one else can do that in China," said Clarke.